February 2019: filling in notes and summaries of books read in 2018 and before.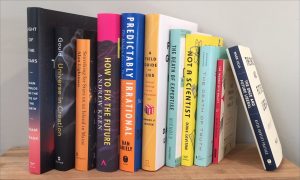 Here's a batch I read in Summer and Fall of 2018, listed here from right to left: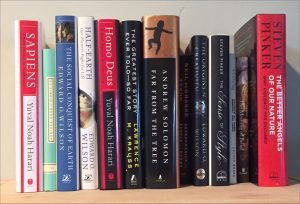 Hawking, Stephen. 2018. Brief Answers to the Big Questions. New York: Bantam. ★★
Ten essays cobbled from Hawking's speeches, interviews, and essays. Is there a God? Not in any traditional way. How did it all begin, is there other intelligent life, is time travel possible? With answers about Einstein, black holes, unified theories. Should we colonize space? Yes, to avoid catastrophe or a used up planet. Will AI outsmart us? It might, so we have to be intelligent about using it to our advantage. How to shape the future? Rely on science and technology, curiosity, imagination. [longer notes]
Feynman, Richard P. 1998. The Meaning of It All: Thoughts of a Citizen-Scientist. Reading MA; Addison-Wesley. ★ ★ ★
Three essays delivered as lectures in 1963, concerning science, religion, and public credulousness. Science has three aspects: method, results, technology. Some uncertainty always remains. Similarly with values, as he reflects on why most scientists don't believe, and how moral values are not affected by loss of belief. And about how little most people understand about our scientific age, politicians who have quick answers to complex problems, a lack of understanding of the complexity of the world, of having a sense of proportion. [full discussion]
Snow, C.P. 1959. The Two Cultures and the Scientific Revolution. (reprint edition Martino Publishing, 2013). ★ ★ ★ ★
The first is a famous essay about the divide between the scientific community and the literary 'intellectual' community that considers it unimportant or even in bad taste to know much about science. Possibly one of the most influential and cited essays of the 20th century. The second essay is about how industrialized nations are getting richer and how poor nations have noticed and will turn to Russia if the West doesn't help. [summary here also discusses the development in the past 20 years of a 'third culture' exemplified by EO Wilson's Consilience and the "Big History" movement, plus a passage from Michael Benson's book about 2001 about how science fiction is a blending of art and science.]
Pinker, Steven. 2011. The Better Angels of Our Nature: Why Violence Has Declined. New York: Viking. ★ ★ ★ ★ ★
Crane, Tim. 2017. The Meaning of Belief: Religion from an Atheist's Point of View. Cambridge MA: Harvard. ★ ★ ★
Philosopher Crane takes issue with the "new atheist" authors, Harris, Dawkins, et al, in their depiction of religion as only about claims of the supernatural (the existence of God; an afterlife). Rather, religion is about identity, about accumulated cultural wisdom about the way to live one's life, about the ideas of the sacred and the profane. He advises atheists to accept that religion will always exist, and to tolerate believers. (He does not address, or even denies, evidence that religious faith fades with education, and with prosperity.) [full discussion, with a bit about how these ideas intersect with science fiction.]
Grayling, A. C. 2007. Against All Gods: Six Polemics on Religion and an Essay on Kindness. London: Oberon Books. ★ ★
Short essays first published as newspaper pieces, about atheists, humanists, and secularists, the death throes of religion, and the alternative of humanism. [full discussion] Pointed, but not as eloquent as his later book The God Argument: The Case Against Religion and for Humanism (2013) [full discussion]
Pinker, Steven. 2014. The Sense of Style: The Thinking Person's Guide to Writing in the 21st Century. New York: Viking. ★ ★ ★
Wilson, E. O. 2017. The Origins of Creativity. New York: Liveright. ★ ★
Tyson, Neil deGrasse. 2017. Astrophysics for People in a Hurry. New York: Norton. ★ ★
Collection of magazines essays about the earliest moments of the universe, the creation of the elements, the discovery of physical laws, dark matter, dark energy, and other topics. Tyson is no Carl Sagan, or Ann Druyan, but these essays are pleasant introductions to cosmic topics, with reflections of living cosmically. [full discussion.]
Solomon, Andrew. 2012. Far From the Tree: Parents, Children, and the Search for Identity. New York: Scribner. ★ ★ ★ ★
I read just portions of this: the opening and closing chapters, about Solomon's childhood and his own father, and then about his late-in-life decision to become a father, via surrogacy; and then chapters on autism (e.g. concerning the 'neurodiversity' movement; the relationship of autism to creativity) and prodigies (considering here only musical prodigies; parental vs. public support). Solomon is a mesmerizing writer, blending results of studies and research with actual stories of hundreds of people he interviewed over 10 years. [full discussion]
Krauss, Lawrence M. 2017. The Greatest Story Ever Told–So Far. New York: Atria Books. ★ ★
This greatest story is a history of physics of the past few decades, accompanied by anecdotes of Richard Feynman, Sheldon Glashow, Steven Weinberg and others; with the theme of the discovery that the universe is not what meets the eye, and that the reality is greater than the myths and ignorance of past millennia. [general discussion]
Harari, Yuval Noah. 2017. Homo Deus: A Brief History of Tomorrow. Harper. ★ ★ ★
Wilson, E. O. 2016. Half-Earth: Our Planet's Fight for Life. New York: Liveright. ★ ★
Wilson, E. O. 2012. The Social Conquest of Earth. New York: Liveright. ★ ★ ★ ★
Wilson, E. O. 2014. The Meaning of Human Existence. New York: Liveright. ★ ★ ★ ★ ★
A concise summary of the great scientist's views on the big issues of science and philosophy, summarizing themes from the author's many other books. Meaning is not about intent and design; humanity's meaning is a summation of the accidents of history that have brought about our existence. This leads directly to questions of to what extent we direct our own future evolution. He reviews the key concept of group selection, and the inherent conflict with individual selection: "risking oversimplification, individual selection promoted sin, while group selection promoted virtue", thus the eternal struggle within every person.He revisits the idea of 'consilience' between the sciences and humanities; the Enlightenment; the two cultures; how our devotion to stories reflects how the mind works. How the humanities explore the comfort zone of human existence, while science explores continua the humanities cannot perceive (but which some other animals do).Science will mature and stabilize; aliens would know the science and be interested instead in our humanities. He discusses super-organisms; speculates on the nature of intelligent extra-terrestrials, and why aliens could never invade our planet (or we theirs); reviews the collapse of biodiversity; and then reflects about human nature, about instinct, religion (built in to human experience; "regarded by the common people as true, by the wise as false, and by rulers as useful"; motivating the tribalism behind conflicts in the world), and free will (which he suppose exists at least for practical reasons).

What is the meaning of human existence? The epic of our species through evolution, prehistory, recorded history, and the potential for what we choose to become.

With some final swipes at creationism ("a triumph of blind religious faith over carefully tested fact"), Wilson concludes "If the heuristic and analytic power of science can be joined with the introspective creativity of the humanities, human existence will rise to an infinitely more productive and interesting meaning."

Fadiman, Anne. 1998. Ex Libris: Confessions of a Common Reader. New York: Farrar, Straus and Giroux. ★
A pleasant book of essays about books, and reading, by an author who grew up in a family that reveled in books. [full discussion]
Harari, Yuval Noah. 2015. Sapiens: A Brief History of Humankind. Harper. ★ ★ ★ ★
This is a history of humanity, with focus on the concepts that have allowed our species to grow and occupy the planet; this is a history of ideas, not names and dates. The ideas include the cognitive revolution, 70,000 years ago; the agricultural revolution, 12,000 years ago; and the scientific revolution, 500 years ago. Harari is fond of trios, and his perspective challenges conventional wisdom; e.g. he considers religion, nationalism, and laws as examples of common myths, or 'imagined realities', that have enabled human society to grow, though these ideas have no physical basis in the real world. Another trio: money, empire, and religion. I find his takes problematic at times, e.g. considering humanist philosophies (secular humanism, et. al.) simply other kinds of 'religions' that worship humanity and not gods. Most striking is his conclusion is that humanity as we know it is about to end.
---
Earlier read, to be sorted eventually by theme: