I had one of these! (via Boing Boing)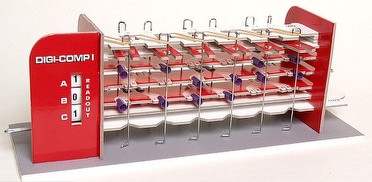 It was, as it says, a plastic mechanical computer. You 'programmed' it by inserting cylindric pegs along the front tabs–the pegs are visible as black or dark grey in the photo–and then you manually moved in and out the long base plate with the handle visible at lower right. The vertical rods pivoted, powered by rubber bands (!), depending on where the tabs where placed as you moved that base plate, and created the 'answer' in three-bit format at left.
I did a grade-school show-and-tell with it, with input from my Book of Knowledge encyclopedia at home. In those days, it was an issue whether 'digital' or 'analog' computers would prevail.
Is the recreation worth $49? Well–maybe.