Here are photos of the first of two big architectural/engineering projects my father was involved with over the course of his career, during the late 1960s into the 1980s, though his career went on from there.
These are iPhone photographs of large glossy prints, 8 1/2 by 11, most of them black and white, that I came across recently in a box of family artifacts.
This first is the Batavia Accelerator Project, now known as Fermilab.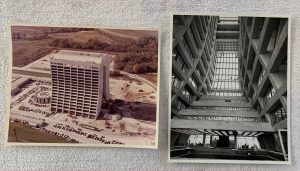 This is a large physics facility in suburban Chicago built in the 1970s, designed to accelerate subatomic particles around a circular underground track (guided by magnets) and then smash them into a target in order, hopefully, to generate a collision spray of particles that might include particles never before seen. This is how subatomic physics is done.
The interior — above photo at right — is quite impressive. Wikipedia notes,
Fermilab's first director, Robert Wilson, insisted that the site's aesthetic complexion not be marred by a collection of concrete block buildings. The design of the administrative building (Wilson Hall) was inspired by St. Pierre's Cathedral in Beauvais, France, though it was realized in a Brutalist style.
The project was most famous, during construction, for the need to dismantle a portion of Batavia, Illinois. During the time my father worked on this project, from 1968 to 1971, we lived a few miles away in Glen Ellyn, where I went to junior high and then high school.
The first photo, above, shows an exterior and interior shot of the actual finished building (the headquarters and office space). As always, click to embiggen.
Here, in contrast, are two architectural models of what the main building might have looked like.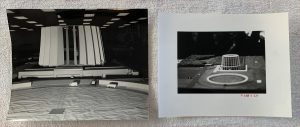 Two more shots of the completed structure. At left is a device called a "Cockroft Walton generator", a device to accelerate particles at the beginning until they are moving fast enough to be injected into the main accelerator ring. (Science fiction aside: Philip K. Dick mentioned this device early in his 1957 novel Eye in the Sky.) At right is, I think, part of the underground accelerator ring, with ample access space for walkers and technicians, and the accelerator itself encased in a framework structure.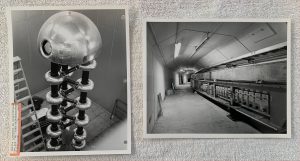 Here are four shots of the exterior of the facility during construction. Cars and people give you the scale and size of the underground ring.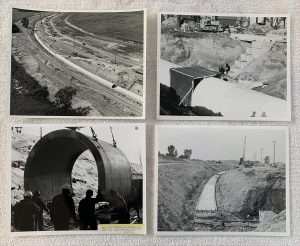 Originally conceived of as the National Accelerator Laboratory, it was renamed Fermilab in 1974. It was run by Robert R. Wilson at first, later by Leon Lederman and others. Lots more at Wikipedia.