On Sunday evening, March 26th, we went a concert on the UC Berkeley Campus, at Zellerbach Hall, to see the Zurich Chamber Orchestra. The concert included an extraordinary piece by contemporary composer Max Richter, a re-imagining of Vivaldi's ever-popular The Four Seasons.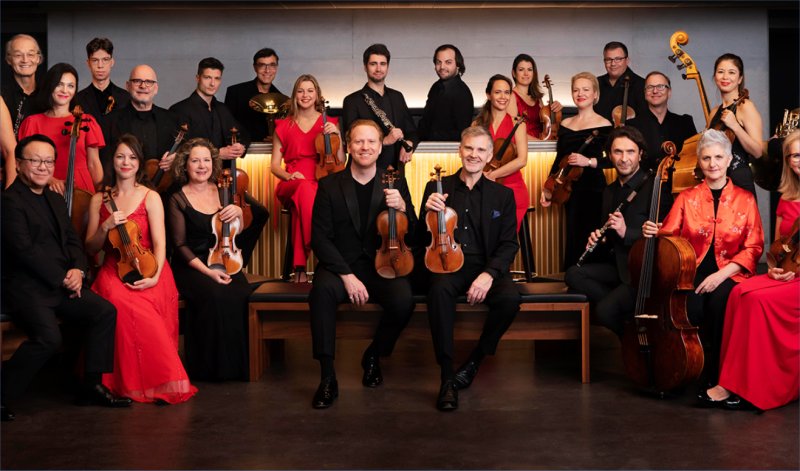 I mentioned, on Facebook, March 9th, how we had bought tickets to an earlier event at Zellerbach Hall, to see the Vienna Philharmonic play Bruckner's 8th symphony, but had to cancel because I had caught a cold the week before. (Which still lingers, slightly, two weeks later.) We were able to exchange our unused tickets for tickets to this Zurich Chamber Orchestra concert (and one other event, to be detailed later).
The Zurich Chamber Orchestra that we saw consisted of about 20 players, on strings and harpsichord and harp. Because we had exchanged relatively expensive tickets (for a full symphony orchestra) for tickets for a smaller ensemble, we got great seats, in the very first row, seats AA 2 and 4. And so I was fascinated as much by watching the musicians as listening to the music.
A mundane observation: this is likely commonplace by now, but we haven't been to many concerts in the past few years and I'd never seen it before: the musicians read their scores on iPads, or equivalents, and use foot pads, with left and right buttons, to advance the score. No more turning paper pages with hands.
The program [this link is bound to expire eventually] included an Edward Elgar piece, "Introduction and Allegro," from 1905, and a rare early Felix Mendelssohn violin concerto (not the famous one), from 1822, composed when he was 12. I was not familiar with either piece, but was impressed by the musicians' technicality and verve. How some of them smile, and seem to be enjoying themselves; and others are relatively grim, or focused, just doing their job.
The final piece was recent, and one I'd never heard of: "Recomposed by Max Richter: Vivaldi – The Four Seasons". It was amazing. The music director and solo violinist Daniel Hope — with swaths of swept-back blonde hair like the cliche classical conductor — spoke to audience before each piece with useful background and information. In this case Max Richter, well-known for decades for concert music and movie scores (a couple of his tracks were used in the film Arrival; here's one), had approached him, Hope, over a decade ago about a rethinking of Vivaldi's masterpiece — which everyone loves, they agreed — to update it into contemporary terms. Hope was skeptical, but eventually persuaded. Since then the piece has been a big hit for this orchestra, which has played it all around the world.
Richter's piece [Wikipedia has this entry about it] is a remix of familiar themes from the sequence of Vivaldi's violin concertos, set against counterpoint themes, some slow and dramatic, often to quite moving effect. The highlights for me began in the very first movement, in which a scatter of Vivaldi's violin lines are grounded by slow notes in the cellos, a steady wandering theme that gradually increases in volume to counter, almost, the business of the violins. The cello line seemed so familiar, but I can't place it. Almost like something from Hans Zimmer's The Thin Red Line; it elevates the foreground of Vivaldi's violins into something…. multi-dimensional. *see footnote below
Here's a performance of the full piece where you can hear that first movement right away (of course) in about three minutes. There are several YouTube videos of the entire piece; this one is handy because the play bar is divided into segments to mark the movements, which are listed on the Wikipedia entry. The underlying cello theme begins almost right away, about 15 seconds in.
In a later movement — Summer 2 — there's the solo violin playing while all the other strings play continuous soft discordant chords that becomes steadily more otherworldly. It was more striking hearing it live, rather than on a YouTube video, but that's true of most music.
In other places Richter plays with Vivaldi's lines, introducing some modern indeterminacy and edge to the classical predictability of Vivaldi; the music remains dazzling, while tweaking familiar themes: an exaggerated glide in movement 6; an extra little note in movement 7; a dropped note in movement 11. There's another hushed background in Winter 2, movement 12.
Here's another performance, an hour and a half long concert with the Four Seasons work beginning, and three other Richter pieces following the intermission. Here the violinist is Daniel Hope, the same guy we saw Sunday; here he's 10 years younger.
*footnote
Discovered just as I'm about to post: that underlying cello theme is much like this earlier piece of Richter's, "On the Nature of Daylight."
\
In a way I'm happy to have exchanged the Bruckner, which I'm already quite familiar with, for this Richter, something I'd not been aware of, and which is wonderful.