From Yeong's iPhone.
We were staying at the Conrad Hilton, which is just south of St. Stephen's Green, as on this map.
St. Stephen's Green, the Central Park of Dublin, was just a short walk from our hotel. Wikipedia has details and a map. The park includes a bust of James Joyce. (Click on any of these thumbnails for much larger images.)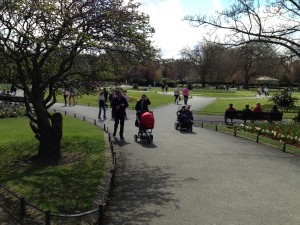 Here I am by the bust of James Joyce.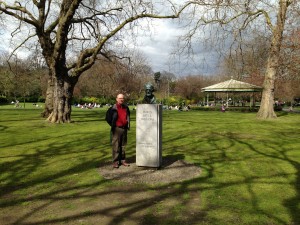 It has a couple ponds; here's one.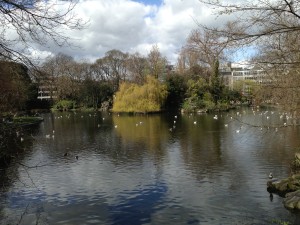 At the northwest corner of the park is the Stephen's Green Shopping Mall, an ornate structure that looks like this inside–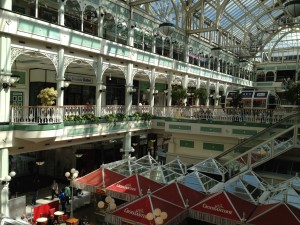 Though its contents are not as impressive as its venue; a lot of standard tourist souvenir shops, mostly.
Here I am standing (not very upright) at the corner of Dame Street and Grafton Street, just across the street from Trinity College (to the right) and nearby a used bookstore, on the left, whose name I don't remember and can't quite make out from the Google image searches. A kind of used bookstore that has virtually vanished from large American cities, but that had lots of fascinating books on various art/literature/gay topics.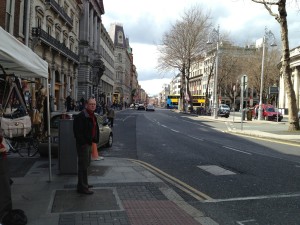 Here's the River Liffey, which runs through the center of the city.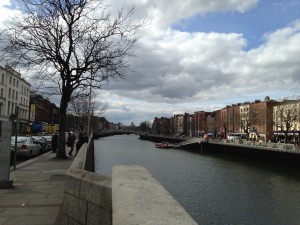 The central library at Trinity College is this modernist, cubist structure, with a Pomodoro Sphere sculpture in the front–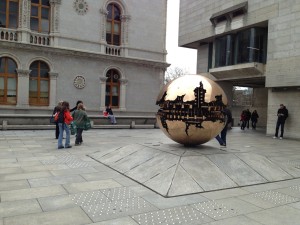 \
(Coincidentally, we saw another Pomodoro sculpture in the front of the UN building in New York City, just a few weeks later — http://en.wikipedia.org/wiki/File:NYC_UN_Gift_of_Italy.jpg)
Trinity College is, somewhat like Harvard, which I visited briefly maybe 20 years ago, a campus of large rectangular structures surrounding greenworks and trees.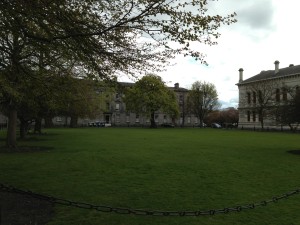 In the center of the campus is the Campanile.
It was a cloudy day.
Then we went inside the Trinity College Library, a vast hallway with alcoves and shelves of varying heights. As the guide explained, tall books were put on the lower shelves, slightly less tall books on the shelves above those, and so on, with the smallest books on the top shelves. This seemed to be the the scheme, regardless of book subject or author.
Here's a slightly crooked view, with me at right.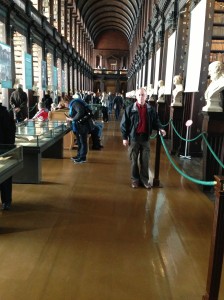 We visited Dublin Castle, but it was closed to visitors because of some diplomatic event. We were allowed to walk around the central gardens.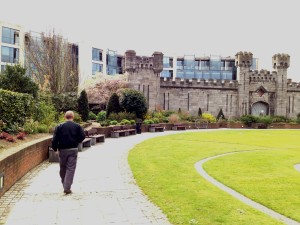 And we visited Christ Church Cathedral, across the street, with interesting catacombs.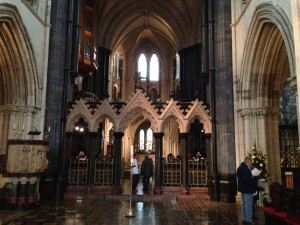 All of this precedes the day trip to the Cliffs of Moher. Here's a picture of me in front of Dunguaire Castle.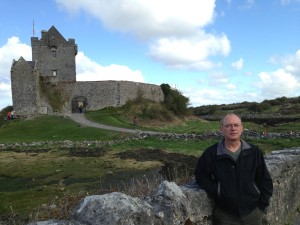 And here's a picture of our driving along the Ireland country roads.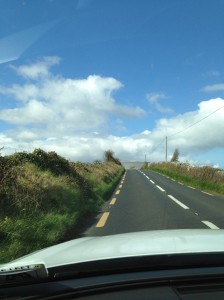 Here's a pic of our very nice rental car — an Audi A6.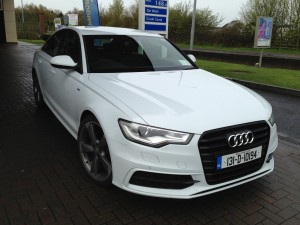 And here is one final pic from the Cliffs of Moher.