Our visit to Lake Anza today, plus the usual daily dose of headline links following.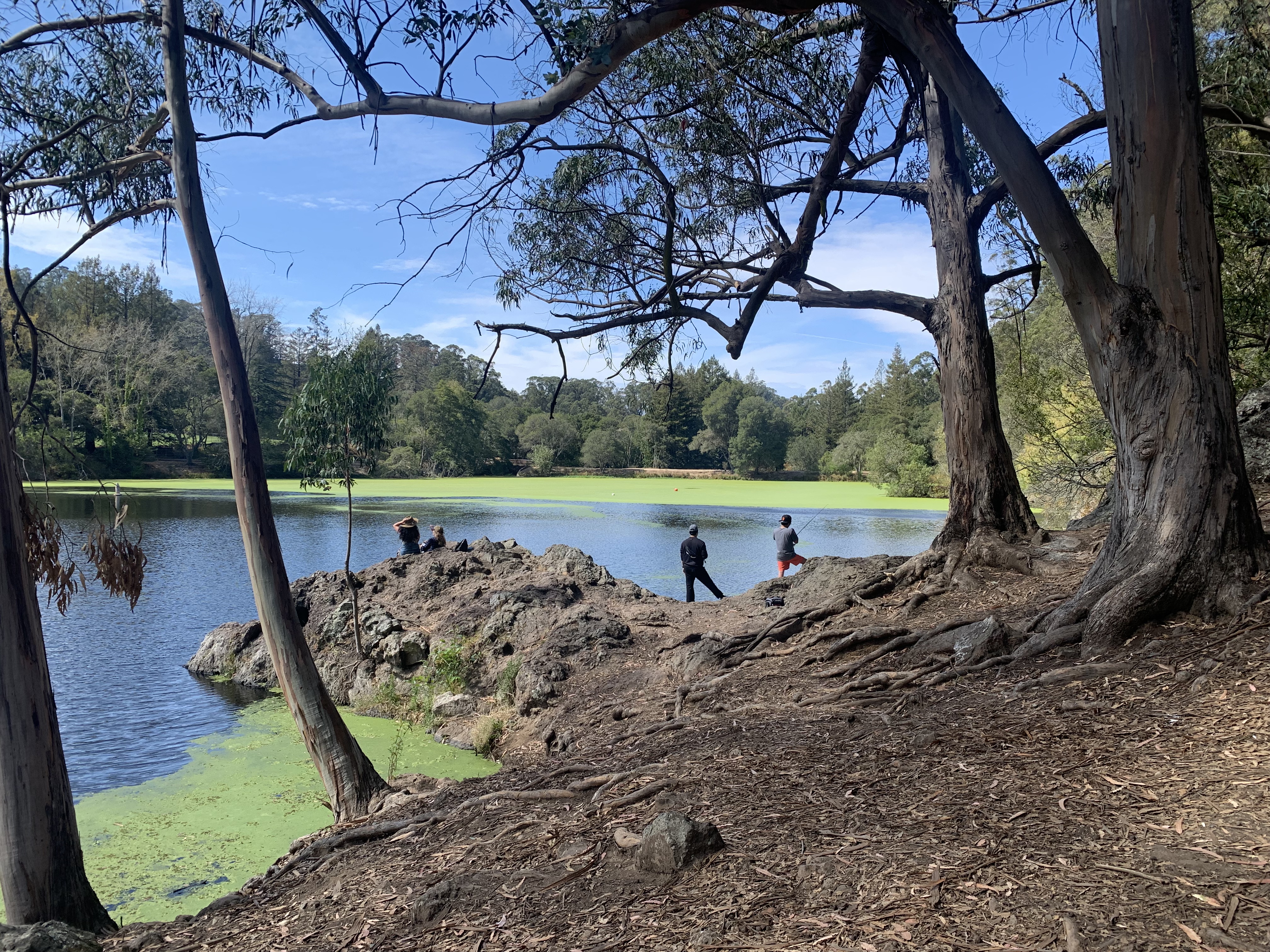 Today we did a walk partially around "Lake Anza," actually a reservoir in the hills above Berkeley, in Tilden Regional Park. I'd checked the website and it advised "no swimming" but didn't advise that the trails around the lake were partly closed off due to construction. Not because of any kind of algae bloom; the green coating of the lake was due, according to a sign by the parking lot, and a link on East Bay Regional Park District site, to mosquito fern, a native plant that actually benefits the lake, and happens to be bigger than usual this year.
It was a mild mostly-sunny day, though the clouds are setting in late this afternoon as an unseasonable storm is due to drench the Bay Area beginning very early tomorrow morning.
\\
Link to headlines that caught my eye today.
Wired, Steven Levy, 16 Sep 2022: Neal Stephenson Named the Metaverse. Now, He's Building It
Salon, Robert S. McElvaine, 17 Sep 2022: A short history of fake history: Why fighting for the truth is critical, subtitled "A case of fake history repeating itself: The American right told vicious lies about the Confederacy for decades"
NPR, Michael Levitt, 17 Sep 2022: America's Christian majority is on track to end
The Atlantic, Sarah Zhang, 13 Sep 2022 (Oct 2022 issue): The Myopia Generation, subtitled "Why do so many kids need glasses now?"
Snopes, from The Conversation, 11 Aug 2022: Why Don't Facts Change Minds? A Researcher In Human Development Explains, subtitled "Here's a look into research that explains why it's natural to resist changing your mind — and how you can get better at making these shifts."
NYT, Farah Stockman, 16 Sep 2022: The Martha's Vineyard Migrant Stunt Is Making One Truth About This Country Clear