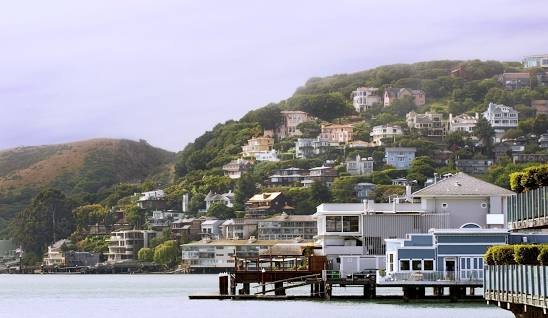 Missed posting yesterday because we took a day drive, on the first day of a three-day (Memorial Day, in the US) holiday weekend. On such weekends (Memorial Day, July 4th, Labor Day) most Americans don't celebrate the event so much as use the extra day off from work to travel or shop. Local news is always about traffic, on the roads and in the sky, and how bad the airports will be compared to last year, over the holiday weekend; and TV and newspaper ads are all about holiday sales, with the American priority, always, to shop, and buy more stuff.
I'm not that much different, except that while I don't 'observe' the holidays exactly, by attending parades or whatever, I'm not usually enthusiastic about traveling, or shopping.
Still, my partner likes to travel, and I don't mind it; he helps me get out of my zone. Yesterday, Saturday, thinking that traffic wouldn't be bad staying in the city, more or less, we drove across the Bay from Oakland to Sausalito. It's an upscale tourist and residential town, with marinas and yacht clubs, restaurants and shops, a short hop across the Golden Gate Bridge from the city (compared to driving the Bay Bridge to the east bay).
Immediately above the main drag, Bridgeway, there are steep hills full of expensive houses with views looking east and northeast out across the Bay. Lots of tourists walked up and down Bridgeway. It's not that different many another coastal tourist spot. (I didn't take any photos.) If I went again I'd make a point to visit the Bay Model Visitor Center, an enormous 3D model of the San Francisco Bay and San Joaquin River Delta System, built decades ago by the U.S. Army Corps of Engineers. And I'd drive up through the residential streets.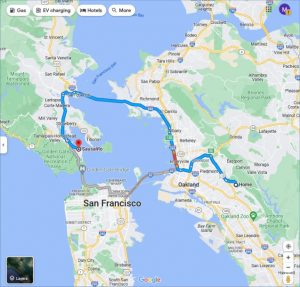 But it took an hour and a half to get there, on the northern route highlighted here (a mere 34 miles), and about an hour to return, over the Golden Gate and through the city (28 miles). An almost six-hour excursion away from home, with only two hours in town. This is why most of the time I'd just as soon stay home.
We had an early dinner (4pm) at what by luck must be one of the best restaurants in the city, Poggio Trattoria. Recommended.
\\
And then, last evening, coming home, checking the mail, feeding the cats, and whatnot, we sat down to find something to watch on TV. No SNL to look forward to at 8:30 (what with the Writers' Strike), and so on such Saturday evenings we tend to alternate between watching classic movies (recently "Big Night" and "The Lady Eve"), on DVD or a cable channel, and finding some gay movie via Apple TV, from Netflix or Apple, which my partner likes to see. Last night clicking to Netflix there was a promotional option at the top of the screen for something called "Heartstopper". OK, why not. A series; that's OK.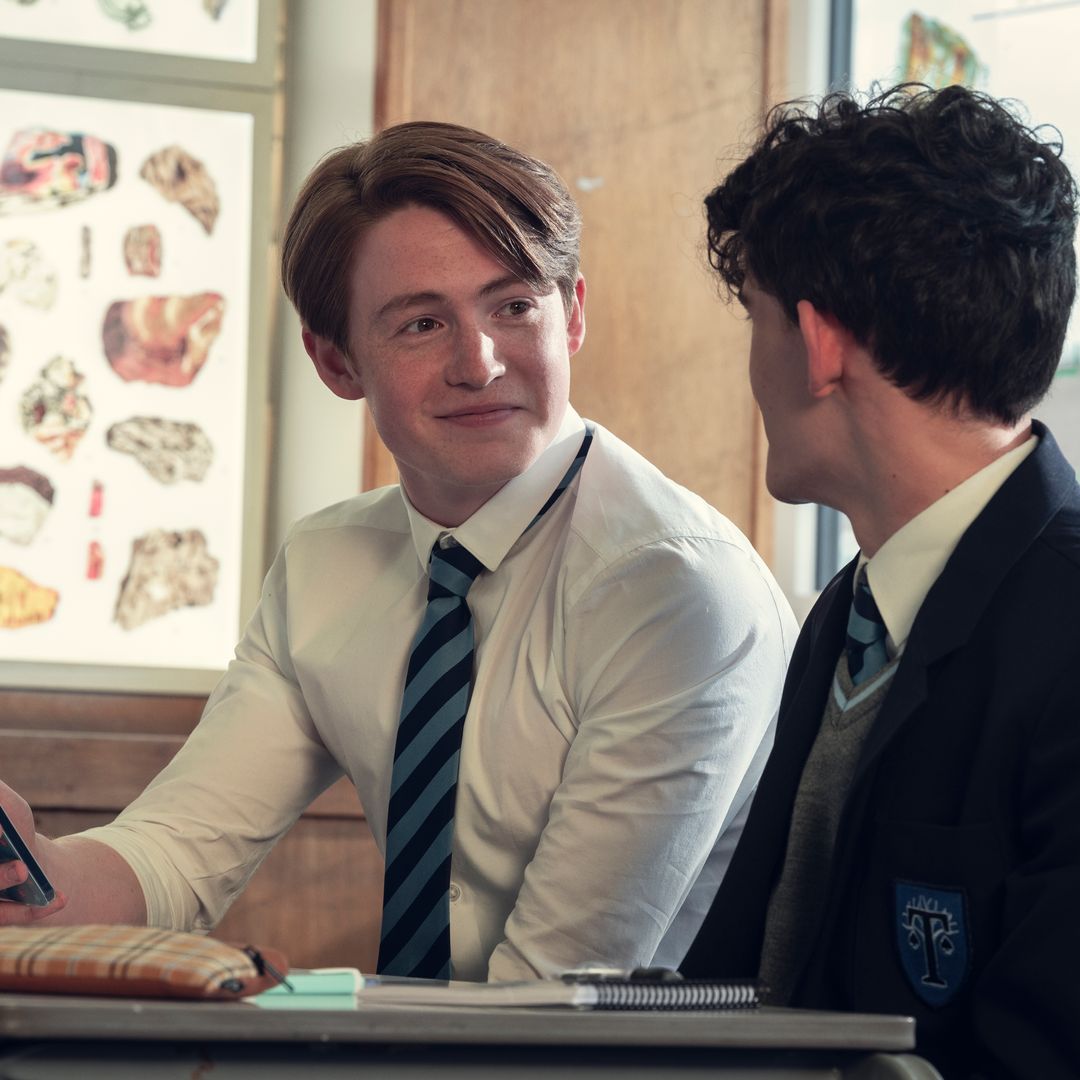 We turned it on and watched three half-hour episodes of what is an 8-episode series. It's classic situation of two high school — or whatever it's called in England — boys, one a jock, another a nerd, who, despite peer pressure from the jock's friends, discover a mutual attraction, and move carefully forward.
When in one episode there was a bit part by Olivia Colman, I realized this was not your run-of-the-mill gay movie or series. (There are many of them.)
And then I realized that I'd heard of this Heartstopper name before. Every week, I compile the bestseller list for Locus Online drawn from mainstream sources (example here), I see the lists from among others Amazon UK. And there's been there series of books for months, perhaps a couple of years, called Heartstopper, selling regularly in Britain. They're graphic novels, which I hadn't realized. And so the books' popularity must be why the series has such a high profile production.
\\
But wait, there's more. In today's Book Review section of the New York Times, there's a two-page spread about the writer Alice Oseman, who created the graphic novels — originally a webcomic — upon which this TV show is based on, and how she's worked to translate her work to the screen. This piece appeared online two months ago! I didn't notice it then.
NY Times, Elizabeth A. Harris, Erica Ackerberg and Leo Dominguez, 22 Mar 2023: Love in Three Dimensions, subtitled "Alice Oseman on bringing her viral webcomic, 'Heartstopper,' to life."
With examples comparing comic strip scenes with shots from the TV show.
Before "Heartstopper" became a global phenomenon, it was a web comic, published online by the author, Alice Oseman, a few pages at a time.

With each post, Oseman said, she'd instantly hear back from readers, who would jump in to analyze the plot twists and traits of the main characters — two high school boys, Charlie and Nick — as they became friends, and … maybe more.

Oseman has kept those reader voices with her, guiding her work as she translated "Heartstopper" into a four-part graphic novel series with over 3 million copies in print, and then a Netflix show, which recently finished filming its second season.