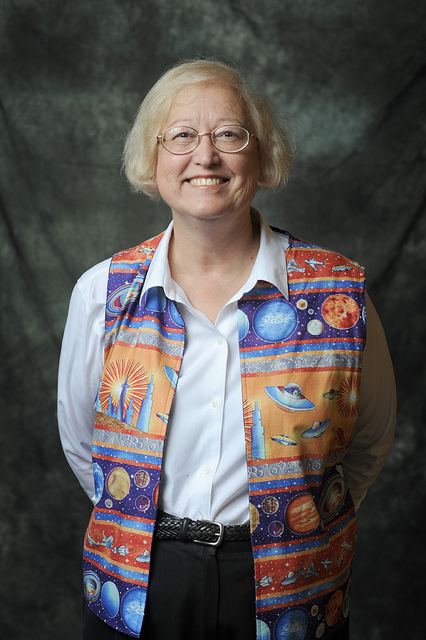 Connie Willis is one of the most beloved science fiction writers of the past 40 years. As a writer she's won many awards, for works often humorous but at times tragic, at times building human stories based on the weirdness of modern physics. She's popular at conventions, excellent as a master of ceremonies (she does this for the Locus Awards every years, e.g. here), and obsessive about the news. She's said that at conventions she keeps the TV in her room tuned to CNN all day. (In fact it was at the Worldcon in 1997, in San Antonio, in the preparation room for the Hugo Awards, that Connie told everyone that Princess Di had just been in a car accident, and that Dodi Fayed had already died.) When I saw her at conventions, we would chat about movies. She's fun on the surface, deadly serious underneath.
She is incredibly astute, and a couple days ago summarized the current state of affairs about Trump and Mar-a-lago in a long post that was copied to Facebook by editor/writer Lou Anders. (There are several websites claiming to be Connie Willis blogs, but I can't find one that has this post.)
This seems to be a public post from Lou Anders, 9 Aug 2022: More CONNIE WILLIS. I'll quote just the first screen or so.
Dear Everybody:

The fallout from the execution of the search warrant on Mar-a-lago (it was not, repeat, NOT a raid; it was a perfectly legal procedure) continues. Trump is out there wildly Truth Socialing and so are the Republicans, and they're all incensed because this has never happened to a president of the United States before. Two things: 1) It still hasn't. Trump is a FORMER President. 2. No other President, former or otherwise, has ever stolen classified documents from the White House and refused to give them back–except for Nixon, and funny story…when he left the White House in disgrace, he started boxing up and taking a bunch of stuff, most of which would have been incriminating evidence of Watergate, and the government had to step in and stop him. Congress then passed a law making his actions illegal, WHICH IS THE LAW THAT TRUMP IS NOW GUILTY OF. I told ya, all roads lead to Watergate.

Some people think it's odd they're going after Trump for such a minor crime, considering all the major stuff he's done. But a key part of the Government Records Act is that if you're convicted, there's a hefty fine, jail time, and YOU CAN NEVER HOLD PUBLIC OFFICE AGAIN. Also the warrant apparently involved not only documents, but electronics, which could mean phones, servers, computers, etc. And these aren't just any documents. Some are so highly classified that they can't be described in a non-classified way without giving away state secrets. People are speculating wildly about what the FBI was looking for–and what they might have found while looking for it. (As my daughter the criminalist reminded me, if you're gathering evidence for one crime and find evidence of another, you also get to charge them for that crime. She frequently searches phones for drug dealing evidence, only to find child porn on the phone. You get to prosecute both.) Trump claims that he was cooperating fully with the National Archives about returning the documents, but in fact he he was warned not to take them in the first place, had fought them every step of the way (one and a half years of unsuccessful negotiations) and many of the documents he returned had been torn up or otherwise damaged.

Some ideas about what might have been in that safe that Trump was so worried about:

…….
Read more at the link.
\\\
Second, I've finally latched on to another very astute writer, a political historian who posts daily on Facebook: Heather Cox Richardson. She posts a daily summary, very straightforward and balanced, of the day's political events. (She tends to post late in the day so I don't see her "Wednesday" post until Thursday morning.) She has 1.6 million followers.
Here's a sample of her August 10, 2022 (Wednesday) post
Today, President Joe Biden signed into law the now-bipartisan Sergeant First Class Heath Robinson Honoring our Promise to Address Comprehensive Toxics (PACT) Act of 2022. It will expand medical coverage for veterans exposed to burn pits during their service. This law is named for Sergeant First Class Heath Robinson, an Ohio Army National Guardsman who was diagnosed with a rare cancer after his service, during which he was exposed to toxic substances in the burn pits. He died in 2020, leaving behind his wife and his 8-year-old daughter.

This law is personal for President Biden. His son Beau also came home from military service that had exposed him to toxic burn pits in Iraq, and he, too, died of cancer—brain cancer, in his case—at the age of 46.

Also today, the Department of Labor released a report showing that there was zero inflation last month (expectations were for an increase of 0.2%). That means that dropping prices, primarily for gasoline, canceled out the price of other things rising. In addition, core inflation, which excludes food and energy—always volatile—dropped significantly for the first time in months. Inflation for the year remains at a high 8.5%.

Biden was pleased enough about the new numbers that he talked about them before his remarks at the bill signing. Putting the lower inflation numbers together with last week's booming report of 528,000 new jobs last month and 3.5% unemployment—the lowest in decades—"it underscores the kind of economy we've been building," he said. "That's what happens when you build an economy from the bottom up and the middle out. The wealthy do very well, and everyone has a chance. It gives everyone a chance to make progress."
…….
And so on. She is someone to follow and read every day.