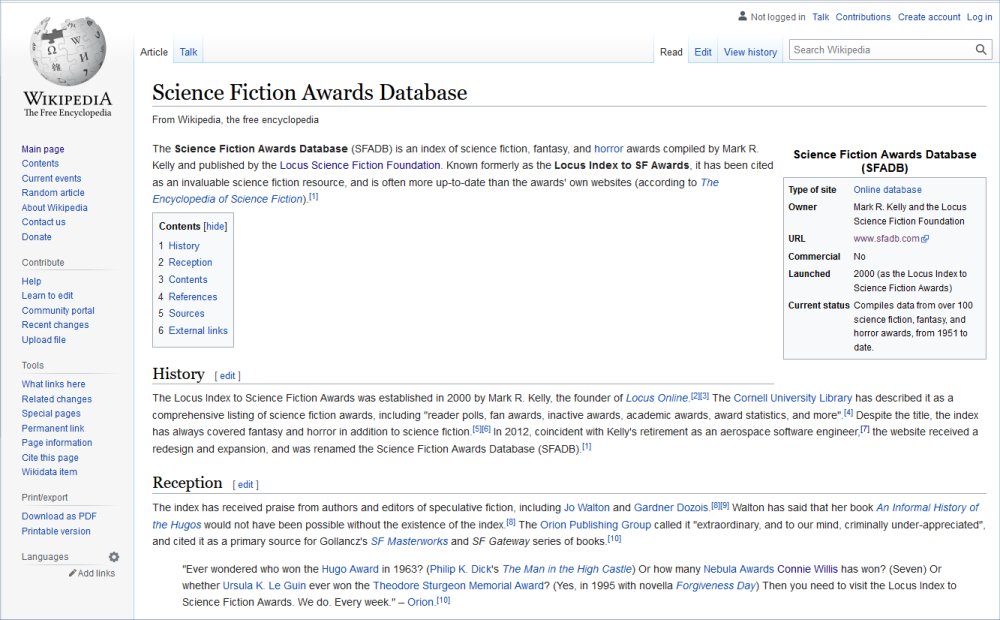 I've been pondering (by request) the future of Locus (magazine and website) in recent weeks, as well as my sfadb.com site. And in browsing around the web for research today, checking Wikipedia's entry on Locus Magazine (https://en.wikipedia.org/wiki/Locus_(magazine)) I saw references to Locus Online, the Locus Awards, and even my own Science Fiction Awards Database! The latter page is here: https://en.wikipedia.org/wiki/Science_Fiction_Awards_Database. I hadn't known there was a Wikipedia page for that until today
Years ago, there was very briefly a Wikipedia page for *me*, on the basis on running Locus Online at the time; but it quickly disappeared. The policy seems to be that you have to have published a book to get a Wikipedia profile, not merely a magazine editor (no Liza Trombi either) or reviewer (no Rich Horton).
Further, Wikipedia's general policy is that you cannot create or edit your own page on Wikipedia. If you have a page there, it's because other people thought it worth creating, and updating. (If there's a data trail to indicate who created this particular page, or last edited it, I can't see it. Presumably those who are registered to edit Wikipedia can.)
The page for sfadb.com is a decent profile of the site, covering its origin as the "Locus Index to SF Awards" back in 2000, then being redesigned in 2012 to become the "Science Fiction Awards Database." It even notes the redesign was "coincident with Kelly's retirement as an aerospace software engineer" with a reference link to my own personal website, i.e. the one you're reading, here.
It identifies the owner of the site as "Mark R. Kelly and the Locus Science Fiction Foundation" because that's how it's copyright, in the bottom left corner of every page on the site. I've been sure who officially "owns" the site; it resides on the same server as Locus Online (and for that matter my personal site), but it's my personal project, never commissioned or paid for by Locus HQ or the Foundation. I installed that "copyright" myself not for any legal reason, but to give the site the authority that the Locus Foundation presumably endows.
\
Reflecting. A key point about the transition from "Locus Index to SF Awards" to "Science Fiction Awards Database" is that the former was a section of Locus Online, at www.locusmag.com (the legacy page is here http://www.locusmag.com/SFAwards/) , while the latter split off to become its own URL, www.sfadb.com. After all these years, it's only recently occurred to me that when I won the Hugo Award for Best Website in 2002 (http://www.sfadb.com/Hugo_Awards_2002), it must have been as much for the awards index, as for anything else, even though at the time I didn't consider it a major part of the site.
Here's what the website looked like in 2001, with a link to the awards index in lower left. (Click on this! All the links on this archive page work!)