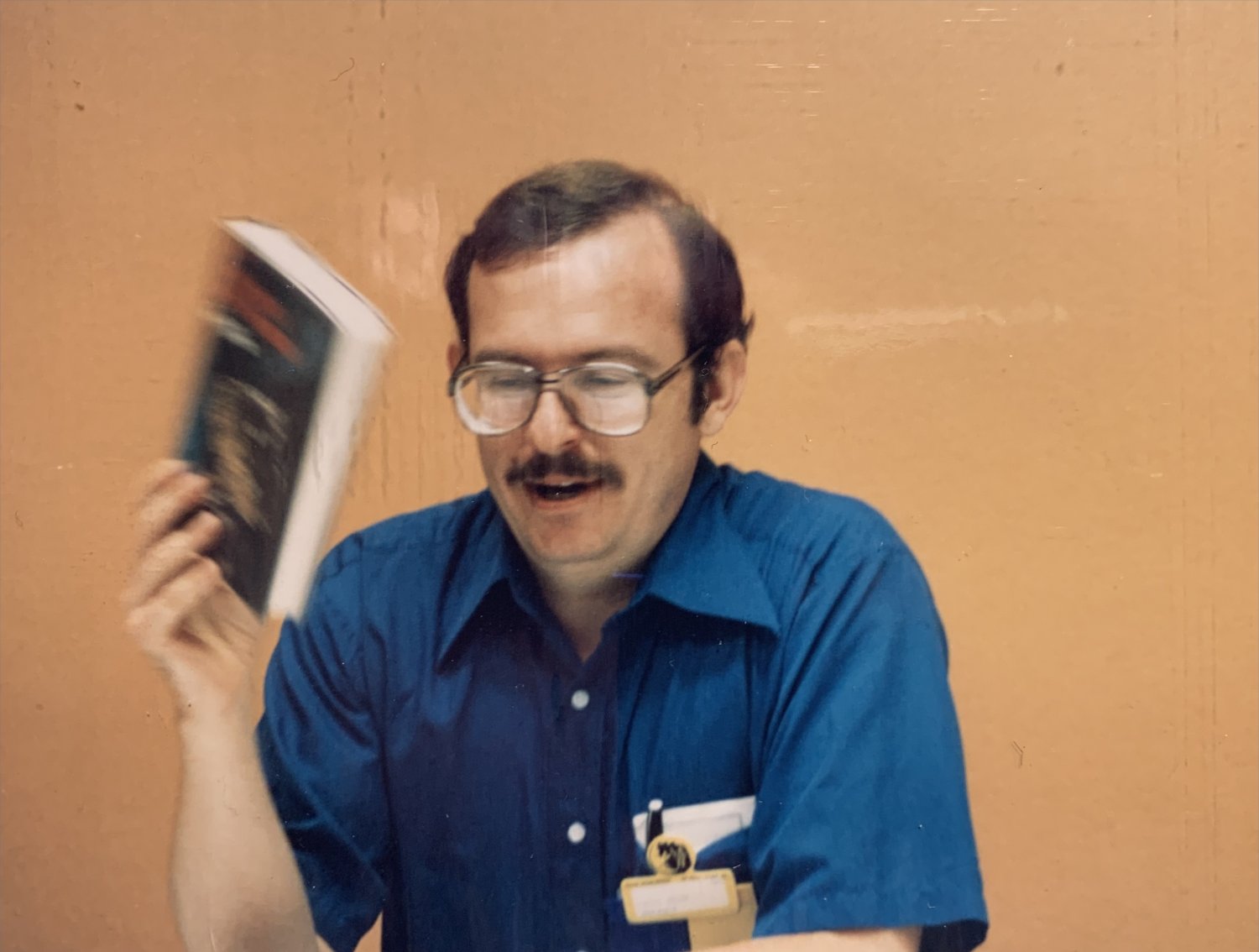 This isn't the best photo of Greg Bear, but it's the one I took, back at the 1984 Worldcon, in LA, the very first Worldcon I attended. I can't tell what book he was holding, or waving — it's his first collection, The Wind from a Burning Woman. I took similar photos of other luminaries — Haldeman, Willis, Pohl, Brin — but didn't interact with any of them. (Perhaps I'll post those photos too.)
The occasion for this post, of course, is that Bear, a mere 71 years old, died this past weekend. Here's the Locus obit. There had been heart issues for a while, then heart surgery earlier this month. He suffered "a number of strokes" during the surgical procedure and never woke up, then was taken off life support per advance agreement with his family.
Bear was one of the all-time great "hard" science fiction writers. He stood on the shoulders of foundational writers Asimov and Clarke, their '60s and '70s descendants Niven and Varley, and made expansive cosmically-scaled space opera stories scientifically rigorous, along with generational fellows Brin and Benford and Vinge. It's a fading form of science fiction, one that survives today in the 21st century in Alastair Reynolds and Stephen Baxter and I'm not sure who else.
I "met" him only once, I think, though in later years he would say hi in passing. As everyone has noted, he was always generous, genial, kind. Quite a few of his stories and novels became classics, notably the novelette "Blood Music" and its novel expansion Blood Music; then Eon and Eternity; The Forge of God and Anvil of Stars; Queen of Angels (which I especially admired) and /Slant; the novella Heads; Moving Mars; and yet another duo in Darwin's Radio and Darwin's Children.
I read all of those. After that, perhaps to his credit, he explored other genres, veering into thriller and fantasy territory in his later novels. And along the way he'd written tie-ins to the Trek, Wars, and Halo franchises.
And there was exceptional short fiction — moving chronologically, "Petra" in 1982, "Blood Music" already mentioned in 1983, the complex and ambitious novella "Hardfought" also in 1983, short story "Tangents" in 1986, and the already mentioned novella "Heads" in 1990, published both in a magazine and as a short book. And — well maybe that's it. Not a lot of short fiction, but several striking, lasting titles.
\\
But my key memory of Greg Bear is an incident that happened at the Worldcon in 1988, in New Orleans. It was the first Worldcon I'd attended since 1984, and the first I attended since I'd begun writing a monthly column for Locus Magazine, reviewing short fiction, earlier that year. This meant that a certain number of professional writers would recognize my name, from my name badge, while strolling through the convention center; and it meant that it gave me license, or courage, to walk up and introduce myself to these writer 'gods' whose work I so admired, explicitly in my Locus column. And of course they were happy to talk to me! (Obviously I avoided approaching writers whose work I had not so admired…)
The memorable event was when I introduced myself to Connie Willis, IIRC, and she was about to have lunch with a couple her pals, and invited me along. (I had given an extravagantly praiseworthy review to her novella "The Last of the Winnebagos" just a couple months before.) And her pals were Greg Bear and Kim Stanley Robinson (there with his wife). We sat at a table in the food court and chatted. Sometimes they talked shop, e.g. how to keep control of your paperback rights. I think it was Greg who led that discussion. But they were friendly with me and included me in their discussions, Greg and Connie and Stan, in the time-honored tradition of admitting newcomers into the science fiction community. I've never forgotten it.