Six Months in Santa Monica
The family moved to a small rental house in Santa Monica in February 1962, or so. This is mostly discussed on the page of photos from that era, http://www.markrkelly.com/Blog/family-history/family-history-photos/1962-santa-monica/.
Living in Reseda, mid-1962 to early 1968
See pic of house, here http://www.markrkelly.com/Blog/family-history/family-history-photos/1964-family-pics/.
Daily Life
When we arrived in Reseda, in the Summer of 1962, I was ready to enter the 2nd grade, Sue and Lisa were too young to go to school, and Kevin had not yet been born. By the time we left Reseda, in early 1968, I was half-way through 7th grade, Sue and Lisa were presumably going to the same elementary school I had gone to, and Kevin was only 4 years old. So Kevin, for instance, likely has as little memories of living in Reseda, as I do of the first Apple Valley house.
Those 6 years in Reseda were for me the central location of my childhood. Everything else in my life is either the dimly remembered before-Reseda, or the chapters of my life that came after-Reseda. Of course my siblings (for whom I am writing this family history, of course), will not remember Reseda, if at all; for them it is a dimly-remember place before Glen Ellyn, or before Sepulveda, or even before Tullahoma.
In Reseda, we had just one car, at first the 1953 Chevy, later the 1964 Chevelle station wagon, but always just one. My father drove from the Valley to near-downtown Los Angeles, to an office tower on Wilshire Blvd. where his firm, Daniel, Mann, Johnson, and Mendehall (DMJM) was located. (Or was he still working for John Blesch at the time? I don't know the relative sequence of the move to Reseda vis a vis his employment at DMJM.)
Since my father drove the car to work, my mother stayed at home every day. She cooked dinners every evening. My father was a meat and potatoes kinda guy, and unamused by casseroles. Every weekend my mother would meticulously plan the following week's menus, and do one big supermarket shopping trip on Saturday, bringing home six or eight paper bags of groceries with all the ingredients for the next week's meals. I don't think my parents ate breakfast; they just drank coffee. My breakfasts growing up were always milk and cereal.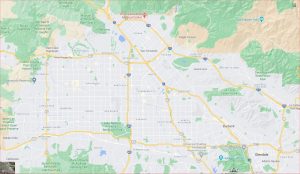 Reseda was (is) a squarish section of the western San Fernando Valley, which is itself the northern half, nearly, of the city of Los Angeles. Most of the SFV was laid out in a grid of major, intermediate, and residential streets, and major ones spaced half a mile apart, like Victory to Vanowen to Sherman Way, or Reseda Blvd. to Wilbur to Tampa. We lived at 6516 Rhea Avenue, tucked in a corner of residential streets near the intersection of Victory Blvd. (a very Orwellian street name, I realized years later) and Reseda Blvd, cut off from through traffic by the Los Angeles River "wash," that is, a concrete-lined river-bed built to contain the occasional, if rare, floods of rainwater from the north. (What is shown on the map here southeast of us as the "Lake Balboa/Anthony C. Beilenson Park" functions as a catch-basin for such flood waters; aka the Sepulveda Flood Control Basin, marked at the southeast corner by the Sepulveda Dam (https://en.wikipedia.org/wiki/Sepulveda_Dam) , whose scenic outer perimeter has often been seen in car commercials.)
(In later years the family returned to California and lived in Sepulveda, later re-named North Hills. And in years after that I lived in various spots on this map: Northridge; North Hollywood [near Studio City on the map]; Tarzana; Granada Hills; then Woodland Hills.)
So we lived on a quiet street, a relatively short street with 8 or 9 houses on each side. We, meaning the whole family, were cordial with a couple of our immediate neighbors, but made no close friends with any of them. There were the Straussers (not sure about spelling) on the corner next door to us; a single older woman on the other side of us (who would in a few years host Cub Scout meetings), and a large family across the street, the Simmons, whom we visited some years later once they'd moved to a larger house in the west valley.
There weren't many kids on the block. The Simmons kids were all young. The Straussers had a boy about my age, Jeffrey (?), who inadvertently triggered my interest in science fiction TV (Lost and Space) and movies (Invaders from Mars) and model cars, but who otherwise was a bit of a ner'er do well. I don't know if my own siblings had playmates; perhaps the Simmons kids?
Family Friends
We did however have a couple sets of family friends, couples, with or without children, that our family would get together with every few weeks or months. The primary ones were the Bigbees: Rollin and Sue Bigbee, and their daughters. My father had met Rollin Bigbee early on, perhaps in the military, or perhaps as my sister Sue claims, on a trip my parents took, before their marriage, on a drive to LA, when they picked him up as a hitchhiker somewhere in Arizona. (I had never heard that story until she told it to me two years ago!) In any event, the Kelly family and the Bigbee family were pals. We would get together at each other's homes, back and forth, once every a month or two. And our family tradition, on New Year's Day, would be to drive to Burbank, meet the Bigbees at the Bob's Big Boy restaurant there for breakfast, and then go to their house to watch the New Year's Day Rose Parade, and then football games, on their TV. (I think they had a color TV set, several years before my family got one.) And at the restaurant I would get one of the free Big Boy comics, though I never otherwise was exposed to comics my entire childhood (and I never took to them). We never attended the Rose Parade, though it took place only 15 miles to the east; and indeed, in the all the years I subsequently lived in southern California, never attended it myself.
Rollin Bigbee, a garrulous, hearty man, was a high school coach. There was an irony between our two families that while my father's first child was a boy (me), who was uninterested in sports, his first two children were girls, Linda and Sherri. He never had the son he wanted to train and play ball with.
Now that I think of it, it's curious that our family and the Bigbees never reconnected after we returned from Illinois to LA in 1971. Why would that have been? Kids getting older, family too involved with their activities? Some falling out? (I don't think so). Don't know.
Here's a pic of Rollin and Sue with  must have been baby Linda: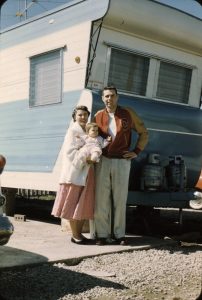 Other things about the Bigbees: Rollin had built an addition to his originally small Burbank house, most a large family room where that color TV sat. (And where I first saw "The Doomsday Machine"; odd how there are a handful of Trek episodes that I remember where I was when I saw them.) Also the Bigbees experimented with unusual holiday decorations. One year their artificial Christmas tree was entirely silver, decorated with uniform globes of a single color, and illuminated by a spotlight with a rotating color wheel.
Here's a pic of their house, with Rollin in the driveway. It was on Naomi Street, in the long block just south of Victory.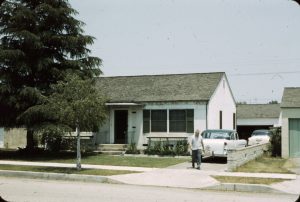 The other family friends were a couple, Lois and Tim Jones. Lois comes first because my father knew her from work, so that's how he referred to them. They were a Catholic couple who visited us once at our Reseda house (because I remember them doing the Signing of the Cross (https://en.wikipedia.org/wiki/Sign_of_the_cross) before dinner, which I had never seen before). I seem to connect their visit to just after the Baldwin Hills Flood (https://en.wikipedia.org/wiki/Baldwin_Hills_Dam_disaster) had unfolded on TV, in 1963. We visited them once or twice, way down in Orange County. They were a pleasant couple, but I don't remember much about them.
Church
My parents had been married in a Methodist church (in 1953, in Cambridge), and while in Apple Valley occasionally attended a nearby Presbyterian Church (https://www.vvgchurch.com/, still there, now with Korean on its homepage—how the area has changed!). I recall that Presbyterian church only because we once met the TV and film stars Roy Rogers and Dale Evans there once, an incident that became an oft-told family story.
I don't recall attending church in Santa Monica. Perhaps my parents didn't bother joining one, knowing our residence there was temporary.
In Reseda my parents found another Presbyterian church, Kirk O' the Valley (https://kirkval.org/) and became active in it. In particular, my mother sang in the choir regularly, in both of the two Sunday morning services, and in holiday concerts singing Handel's Messiah. I attended Sunday School during the earlier service, which my father attended, and I suppose Sue attended Sunday school as well. (But who was home with Lisa and Kevin? I don't recall, and hadn't ever even thought about it until writing just now, trying to fit together memories with what the timeline of moves and births must have been. Maybe the church had a nursery?) After the first service and Sunday school were over, Dad would take Sue and me to a nearby supermarket (Piggly Wiggly, long gone) that had a bakery in the corner, with café tables, and he would buy us each a donut and himself coffee and we would while away the hour until second service was over and we picked up Mom and went home. Our weekly Sunday adventure.
Disasters
That 1963 flood in the Baldwin Hills, shown live on TV, was for me an impressionable event. Water flowed from the broken dam at the top of a hill (in what was and still is an upscale black neighborhood) and down residential streets, gradually dragging one house after another away; a force of nature.
I had also been dimly aware of the Bel Air fire, in November 1961. My impression from that event was that a huge fire like that would burn homes to the ground, leaving nothing but their foundations.
There was one event that happened right on our street, Rhea Avenue. One night we woke up to the sounds of fire engines, and the sight of a fire across the street, a few houses down. I awoke the next morning thinking to see the entire house burned to the ground – because, that's what I'd seen happen in the Bel Air fire. But no, only the garage at the front of the house had been gutted. The people there had had a lovingly maintained 1958 Lincoln Continental – an enormous car, see here – and the car had caught fire, and burned out the garage. But the house proper was fine.
Of course, in later years I experienced disasters of my own, most notably the 1994 Northridge earthquake. I'll cover that in my "memoirs."
Weekend trips to Apple Valley
It was only about 100 miles from Reseda to Apple Valley, through the San Gabriel mountains and across the desert, and so once a month or so the family would pack up the car on a Friday evening after dinner and drive there to visit Grammie for the weekend. In the early days, before a freeway (Highway 14) was built through those mountains, virtually the entire trip was on two-lane highways, and so took about 2 hours.
The Apple Valley house had a master bedroom, one additional bedroom, and one bathroom. The bathroom was unusually large, with a large square shower/bathtub with walls constructed of the same cinder-block as the outer walls of the house (but sealed and painted) and no shower door. The spare bedroom, as the years went by, became a virtual dormitory. On these weekends my parents would take Grammie's double bed, Grammie would sleep on the sofa in the living room, and all three or four of us kids would sleep on a collection of single and double beds that took virtually the entire floor space of that spare room.
I don't remember many details of Apple Valley trips from this era (compared to my many memories of trips there in the '70s). I suppose my father did chores around the house that needed doing, on Saturdays, or we'd just relax. The weekend ended with an early Sunday afternoon dinner, then the two-hour drive home.
Holidays like Thanksgiving and Christmas were always at Apple Valley, if for no other reason than that my Grandmother was disinclined to drive down into the city. She did drive around Apple Valley, and into Victorville, but no farther.
Our New Car
As a child I grew up with the family's 1953 Chevrolet Bel Air, but in 1964 my father exchanged it for the first model in a brand new Chevrolet line, a Chevelle. (Perhaps simply because the family was getting bigger, and the old car, with front and rear bench seats, had gotten too small.) The new car was a Chevrolet Chevelle station wagon. (Here's the picture of Lisa and Sue with the Chevelle in the background.)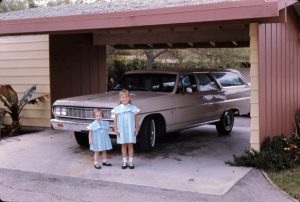 In those days you could buy a car off the lot, at the dealership, or order the car you wanted, exactly: every one of dozens of options was independent of the others (unlike the 'packages' of bundled options generally sold today), and what you wanted would be placed as an order to the factory in Detroit, and would take two or three months to be built and delivered. I recall that, for whatever reason, the 1953 Chevy disappeared (perhaps my father had traded it in?) and in the interval until the Chevelle was delivered, he drove a loaner, or rental, which was a hot red Chevrolet Impala convertible — image here — very different from his usual conservative, subdued taste.
Grammie's New Car
She got a new car too, in 1966 or so. It was a 1966 Chevelle sedan, white, very plain, looking like this: https://bringatrailer.com/listing/1966-chevrolet-chevelle-300-sedan/. She had previously owned an early '50s Pontiac, seen in the 1st Apple Valley photos here. Her shopping style was the opposite of my father's. One weekend she and my father and me went to the Chevrolet dealer in Victorville. She walked around the lot, saw a car she liked, and said I'll take this one. No fussing about options or accessories, no concern about color; whereas my father painstakingly chose from the menu of every possible option and color to order his car, for Grammie anything functional and basic was fine with her. It was a 3-speed manual, gear shift on the steering wheel column, manual windows, and IIRC, no radio. (And probably no seat belts, either, in that era.) But it got her back and forth to shopping, and to church in Victorville. She had a habit of turning too widely (i.e. turning a bit to the left before making a right turn), and letting the car slip backward alarmingly while she engaged the clutch to shift those gears, on an upslope. But she got around.
Pets
We had had a dog, a German Shepard (?), in the late '50s at the first Apple Valley house, Tammy, seen on this page: http://www.markrkelly.com/Blog/family-history/family-history-photos/people-at-first-apple-valley-house/. I don't know what happened to him. In Reseda we acquired two pets. First, a Siamese cat, a female named Tuppy, short for Tup-Tim. I don't know the circumstances of why we got a cat, since I don't think my father was ever a cat person (and I don't recall my mother caring about pets one way or another). Pure-bred Siamese, very pretty. I'd always liked cats and got along with her just fine. She would lie at the top of my bed at night and lick my buzz-cut scalp. But Siamese cats apparently have a cruel streak. She got pregnant (was she an outdoor cat, or an indoor cat that my father had bred? Don't remember) and had kittens, and then mauled most of them to death while shut up with them in my father's den. After that, I think, my father got rid of her. (My parents, and Lisa and Kevin, did get another cat, some years later, in Tennessee.)
Then we got a dog, a pure-bred Samoyed. (I recall a long drive to a Long Beach kennel to get her as a puppy.) She was Tina, short for Chatina-of-the-Igloo. She was happy and good-natured, though she tended to bark a lot when kept outdoors in the back yard, as she was usually. Also, Samoyeds have long fur, and so she needed regular brushing to keep her fur from getting tangled and matted.
We also had a small aquarium, which sat on top of the piano that we acquired from my Grandmother and that sat in the corner of the living room. Its purpose was as much to give me a responsibility, to feed the fish and keep the water clean, as because my parents liked neon tetras.
Family Trips and Vacations
By the time we lived in Illinois, beginning 1968, family vacations were always car trips and stays in national park campgrounds.
Before that, in Reseda, vacation trips were cross-country visits to see family (my father's parents; my cousins) in Illinois.
The earliest family trip I recall was on a train, from California to Cambridge, Illinois. Perhaps we took the train because it was winter, and we couldn't count on roads all the way across the country to be passable, but this is speculation. I'm not sure if it involved all four of us, including Sue as a toddler, or if she might have been left behind with a baby-sitter (Grammie?). We sat in seats in a regular coach train car, for the entire trip, sleeping in the seats during the two or three nights the trip took. (The train took us to Galesburg, just 15 or 20 miles south of Cambridge; Grandpa picked us up in his car.) We must have walked to the dining car for meals, though I don't remember that. I remember just two things from the trip itself. First, a stewardess gave me a coloring book and some crayons, to occupy my attention. Second, I recall asking why we had to sleep in our seats, instead of getting a room with berths. I was given to understand the question was impertinent.
This trip was likely in January 1959, given family photos (here, http://www.markrkelly.com/Blog/family-history/family-history-photos/1957-and-later-cambridge/) that show we were in a snowy Cambridge in that month. Sue would have been sixth months old, and since she isn't in those photos, she must have been left behind.
One more thing I remember: the smell of diesel fuel at the train station. After that trip, I wouldn't smell it again until my first visits to Europe, in the '90s, where train travel between cities was very common.
And one more: arriving in Cambridge, waiting in the back seat of a car with one of my cousins, while outside it was dark and snowy. My first experience of snow.
\\
Then there was a cross-country trip by car in 1965, in our Chevelle station wagon. LA to Cambridge is about 2000 miles each way. We stayed in a motel or two, but otherwise drove long hours, that is, my father would drive through the night, fueled by thermoses of coffee purchased from diners along the way. I don't remember Cambridge on this trip at all, but I do remember a number of scenic highlights on the drive there and back. Leaving California, driving US 40 through Arizona, we stopped off at both Meteor Crater and the Petrified Forest. (And, though it was surely as illegal then as it is now, my father picked up a couple pieces of petrified wood off the ground and hid them under the seat of the car, and brought them home. …I have them now, in a display cabinet with various collectibles. If I ever do my own cross-country drive, which is decreasingly likely, I'll take them back.)
It took a day and half to drive across Texas. We stopped at a motel in Odessa, and ate at a Mexican restaurant next door, and I remember my parents exclaiming that it was the best Mexican food they'd ever eaten. This likely simply reflects that what Mexican food they'd eaten in LA was Americanized, by Texan standards. It took the entire next day to reach Texarkana, and then another 12 hours to reach Cambridge. (Did my mother do some of the driving? She must have.)
The return trip took a northern route through Kansas or Nebraska and then into Colorado, where we spent one night at a KOA Campground in Estes Park, just outside Rocky Mountain National Park. Next day we drove through the park, stopped for lunch at a visitor center along the road going across the top of the mountains, and then went south and west to what's now I70, reaching Glenwood Springs. My great-aunt (on my father's side) Maude and great-uncle Edwin, who lived in Davenport, Iowa, were vacationing there, and we stopped to visit them. (I have in my notes that this is when Aunt Maude gave me a stamp album, to pass along her own hobby, but I'm not sure this is right; more likely in 1967, after we'd moved to Illinois and visited her house in Davenport.) We subsequently returned home through Utah, though I don't remember specifically if we stopped anyplace there.
Minor mystery: since my father took so many photos in the '50s, and took many later photos from trips we took from Illinois, why have I found no photos from this trips from LA? Where would they have gone? Perhaps they are in carousel trays that I've already passed on to my sister.
Another interesting aspect of these car trips. In the 1960s and '70, and even I think into the '80s, gas stations provided state road maps, for free, folded up accordion style. And so I collected them, from every state we drove through, and even maps from different gas stations for the same state. Eventually I had a huge stack of them. Alas, they are long gone. But in the '80s I started collecting such maps again, this time provided by AAA and acquired before I made trips. For anyone who's never seen such road maps, here's a photo of two AAA maps of Arizona (and New Mexico), one unfolded, one folded like those provided by gas stations. They're from 1987 and 1989 (because I attended conventions in those states and each time had a rental car).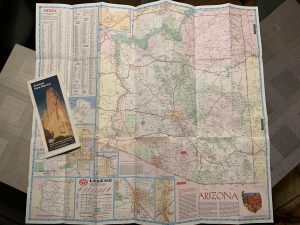 \\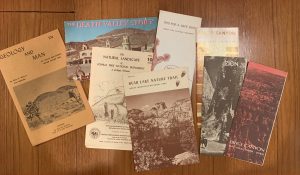 I'll mention two other trips, though none of my siblings were involved. In 1963 my parents and I did a weekend trip with the Bigbees to Mt. Whitney, Lone Pine, and Death Valley, all of us in their smallish turquoise Plymouth Valiant. It wasn't a well-planned trip; we couldn't find a motel or campground near Scotty's Castle in Death Valley, and so slept in the car for one night, in a parking lot.
The next year, in 1964, with the brand-new Chevelle, my father took just me on what was presumably intended as a father-son bonding trip. It was a three-day weekend from LA to the north rim of the Grand Canyon, then to Zion and Bryce in Utah. We stayed in campgrounds, but sleeping in the car or on the ground (no tent)—the first campground trip, then.
The photo shows pamphlets and tour guides from those parks, and from Joshua Tree National Monument (as it was known then; it's now a National Park). I don't recall the trip to Joshua Tree.
Moving to Illinois for 3 years, early 1968 to Summer 1971
Why did the family move, rather abruptly, in the middle of a school year, from LA to the Chicago area? (And why did we return to LA after three years?) I don't think it was ever "explained," but it's easy to surmise. My father's mother, in Cambridge, was ill with Parkinson's Disease, to the point where she was wheelchair-bound and barely able to speak… and I think my father wanted to be relatively near her in her final days.
Possibly it was a coincidence that my father's employer, DMJM, needed him on a project just getting underway near Chicago, but it's more likely my father learned of the project and asked to be transferred there. From where we settled near Chicago, in Glen Ellyn, it was about a two-hour drive to Cambridge, suitable for weekend visits, just as it had been a two-hour drive from Reseda to Apple Valley. Exchanging the elder side of one family, for the other's.
This was a staged move, as the move back to LA would be in 1971. That is, we sold our current house and moved across country (leaving belongings in storage, presumably) before finding a new house. In each case, the proximity of relatives near the target area allowed my father to park his wife and children with those relatives, while he went ahead to begin work on his new job, presumably living in a hotel room or temp apartment.
In early 1968 this meant leaving the Reseda house and settling with my grandfather and cousins in Cambridge, Illinois. My father went ahead to start his new job near Chicago, and to look for a new house.
–Cambridge
The transition from big city suburbs, to small town Illinois, was quite dramatic. The town of Cambridge, Illinois had a population then of about 2000, and 50 years later still has that population; it's been a very stable community for decades. It was a small town along a rail line (though by the 1990s the railroad had been ripped out), and was and is surrounded by farmland, family farmers. Despite its smallish size, it's the county seat of Henry County, and so has a courthouse, a sheriff's office, and a jail. Also a public library, and the usual midwestern churches: Methodist, Lutheran, Baptist. An elementary school, a combined junior high/high school. A country club, for the well-to-do, to the south, a cemetery to the north. And a town junkyard out beyond one corner.
More to the point, everything was moist and green, compared to sunny but dry Southern California. The air smelled different. There was snow in the winter, thunderstorms and fireflies in the summer. And for me, transferring to the local 7th grade, there was a school bus to ride, rather than a walk. (Because my grandpa's house was at one corner of town, the school at another corner, my school bus ride entailed driving way out into the farmlands to pick up one or two kids from numerous widely spaced farms, then circling around back to town from a different direction.) It was a small junior high school, with just two classes for each grade, and my math teacher was also the gym coach. Sue and maybe Lisa must have been in elementary school at the time; the local elementary school was toward the center of town and they must have walked, if they attended school there at all, about which I'm not sure.
So we lived with my grandfather, in his simple house at the northwest corner of town (on what's now called "Bowling Rd"). There was a living room, dining room, kitchen, bathroom, and master bedroom on the ground floor; two bedrooms and an attic on the top floor. (I *think* it's this one via Zillow.com, https://www.zillow.com/homedetails/513-W-Upper-St-Cambridge-IL-61238/222826818_zpid/, though the driveway seems to have moved from the left of the house to the right; Zillow says built 1907, and currently worth $46K.) (There's also a 1990s photo of the house on this page.) I think the house had been built without indoor plumbing, and at some point had a slice of the kitchen walled off to install an indoor bathroom. (It was an odd corner of the house for a bathroom, the only one in the house, to be in.) The stairs to the top floor were narrow and creaky. There was a damp, musty basement.
My grandfather had an electric organ, and was an enthusiast. (Years later, on a visit to us in Sepulveda, he drove over to UCLA, just to hear a concert in Royce Hall with its enormous organ.) I played around on his organ, having gotten some rudimentary piano lessons from my mother in Reseda, and managed to impress my grandmother at least once with a piece from some elementary piano book.
My father's sister, Aunt Betty, and her husband Stanley Anderson (a lifelong butcher in the town market, Wayne's Super-Value (now long gone)), built a house, a '60s style split level, next door to grandpa's house. Some years later, the second oldest (after Ronnie) of my cousins, Christine, and her husband built a house one lot down, next door to her parents. Betty & Stan's house was this one, https://www.zillow.com/homedetails/511-W-Upper-St-Cambridge-IL-61238/91357580_zpid/; I'm not sure, from Zillow view, which one was, or is, theirs. (I last visited Cambridge in 1992, with my father following my grandfather's death, and have not kept in touch with any of my cousins.)
So it was/is a tight-knit community, an example, I suppose, of America's heartland.
In 1968, as we relocated from suburban LA to this small town, it was a bit of culture shock, I suppose. In a town that size, everyone knows almost everyone else. Church was very important, and so was high school sports. My cousins had a pool table in their basement, which seemed to be very important. And they read Nancy Drew and Hardy Boys mysteries; they watched Dark Shadows and "Star Track" as they pronounced it. My grandfather, in a closet underneath the staircase, had a large collection of "Viewmaster" (https://en.wikipedia.org/wiki/View-Master, circa 1962), slides , three reels per envelope, mostly of far-away places in Europe that most people of the mid-20th century never saw at all, except in National Geographic magazine, or TV shows like The Happy Wanderers (https://en.wikipedia.org/wiki/The_Happy_Wanderers). (I remember that show's theme song, but can't find it, not even on YouTube.)
We were there only a few months. Sometime over the summer, we moved into a house in Glen Ellyn, a suburb some 25 miles west of downtown Chicago, and maybe 15 miles east of the Batavia accelerator project, now called Fermilab, my father was working on.
–Glen Ellyn
Again, another slight culture shock. A new place. Sort of part way between the walled-off suburban lots of the San Fernando Valley, and the openness of small-town Cambridge. We lived in the very southern part of Glen Ellyn, just across highway 53 from the Morton Arboretum, a 1700-acre nature preserve, at 22W612 Arbor Lane, and rarely traveled into the center of town proper. The houses were all two-story or split level. Everything was green. There were no walls or fences between lots, as there always was in SoCal. There was a shopping center with supermarket at the corner of Highway 53 and Butterfield Road, and east on Butterfield was a mall called Yorktown (I think the first mall any of us had ever been to). There were some shops south of us in Lisle, and a row of clothing stores and other shops along Roosevelt Rd a mile to the north.
Again, snow in winter, humidity in summer. I entered 8th grade, and so took a school bus to Glencrest Middle School, 3 miles away; the elementary school, Arbor View, was walking distance, 0.7 miles, so Sue and Lisa presumably walked there.
With the open backyard, we installed a post and chain in the middle of the lawn to let Tina be outside during the day. Otherwise she stayed in the unheated laundry room, adjacent to the garage and kitchen, overnight. (Tina was never an indoor dog…) We had raspberry bushes along the back edge of that yard, and a medium-sized willow tree in the far left corner.
The house was split-level, the main floor, with living room, kitchen, dining room, and garage and utility room, at ground level. The left half of the house was two floors, the lower one sunk half-way into the ground, with a family room, a bedroom (which became mine), and a laundry room combined with a basic bathroom. The upper one with three bedrooms, and a bathroom.
Here's a photo taken from Google Maps street view. The tree in front of the house is, of course, much larger than it was when we lived there.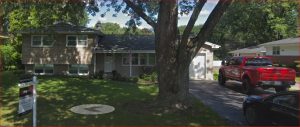 At some point we acquired a second car, a used 1964 Buick Skylark, and at some point my father traded the Chevelle in for a 1968 Buick Sportwagon. (I'd had the impression most of my life that my father kept cars until they ran into the ground, but looking back, that wasn't true; he abandoned the Chevelle after only 4 years. Perhaps because the Sportwagon was bigger, for family trips with all four kids? Don't know.) The second car gave my mother much more freedom, of course, to do things during the week.
Weekend Trips
As we had driven to Apple Valley on weekends to visit Grammie, from Glen Ellyn we drove to Cambridge on weekends to visit the family there. At some point my stricken grandmother died, and there was a funeral. I don't have a date. I think it was a bit longer drive to Cambridge, but it was almost all by freeway or interstate, in contrast to the drive to Apple Valley mostly on two-lane highways.
Whether during the summer of 1968, or on those weekends until 1971, we experienced much more of life in small town Cambridge. My grandfather had a decent sized garden at the back of his house, and he grew corn, carrots, green beans, peas, and much else. I recall shucking peas.
The railroad that cut at an angle through town was still active, and freight trains would chug through once a day or so, sometimes late at night. My grandfather's house was so close to the railroad, just 100 yards or so, that we would be awakened in the middle of the night sometimes for 10 minutes, as the house shook and rumbled with the train's slow passing.
We visited my great-grandmother, who lived in Bishop Hill (see Family Trees for some background about that religious colony), once. There were a couple remote cousins, living on remote farms, that we visited.
Family Friends
As in Reseda, we met our nearby neighbors in Glen Ellyn, but never socialized with any of them. The one couple we would socialize with was, as with Lois and Tim, via a contact at my father's job. These were the Irelans (no 'd'), and I realize I don't remember their first names! They were a childless couple who lived northeast of us, not far from Glenbard East High School which I attended beginning Fall 1969. They had a two-story house with a sloping back yard, and in a small upstairs guest room, they had a color TV—before we did!  Because of the proximity to my high school, for a period of some months I had a job mowing their lawn, skipping the school bus and being picked up later by my mother just before dinner.
It was December 1970 before we got a color TV, installed on the sly in my parents' bedroom one evening while us kids were downstairs watching the old black and white TV, and then revealed in a surprise. (Being able to see them in color gave me a new reason to endlessly rewatch episodes of Star Trek.)
Church
Another Presbyterian Church, Southminster (https://www.southminsterpc.org/). I don't recall details of Sunday services, because by this time I was 13 years old and moved from Sunday School to youth group meetings on Sunday evenings. More about that in one of my memoir sidebars.
Family Trips and Vacations
Our stay in Illinois was the beginning of the era of car trips and camping. There was one major trip each summer, beginning the summer we moved in. Oddly, I have only a few photos of my father's from these trips; I don't know why he wouldn't have taken more, so perhaps they're among a batch of slides that ended up with my sisters or brother.
In 1968, we headed north, first into Wisconsin, to a place called Wisconsin Dells. It's locally famous, but not nationally so. It's a gorge in the Wisconsin River with narrow canyons and layers of sandstone, and visitors take riverboat tours. (https://en.wikipedia.org/wiki/Dells_of_the_Wisconsin_River) From there we drove further north, into the upper peninsula of Michigan, and out to the end of a big peninsula that juts into Lake Superior, at the end of which is a town called Copper Harbor. I think from there we may have returned through the lower part of Michigan, but I'm not sure about that.
(Also, there were periodic fishing trips to Wisconsin, a place called Shawano Lake, that I was obliged to attend with my father and Mr Irelan. I never caught anything.)
In 1969 the family took a more ambitious trip, heading east to the Great Smoky Mountains National Park in eastern Tennessee, camping and driving around for several days. Here's a photo of pamphlet souvenirs from that part of the trip: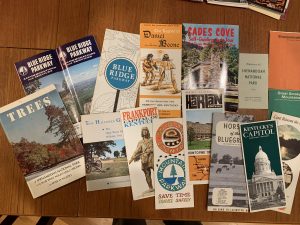 Here are some specific tickets, for the Capitol and the FBI. I seem to recall that you had to write your state senator, perhaps, weeks in advance, and have tickets mailed to you. Since the slip says "party of 6" the whole family was on this trip, though I don't know why one of the Capitol tickets is missing.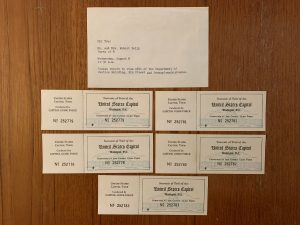 Then northeast to stay with cousins of my mother's somewhere near Washington DC, for a couple nights, in part because my father admired the design of Dulles International Airport (https://en.wikipedia.org/wiki/Dulles_International_Airport) and wanted to see it in person. (It's featured in the 1970 film Airport). (This must have been sometime in August 1969, just a few weeks after the Apollo 11 moon landing, because in the Dulles airport I bought a paperback nonfiction book all about it, called "We Reach the Moon.") We saw some of DC itself, because somewhere I have a passes in our names to a Library of Congress tour. Here are tourist pamphlets — from a lot more places than I recall now.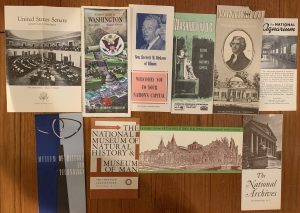 From there we drove north, stopping one night in a campground in upstate New York, then the next day driving through Ottawa, and then camping a couple nights in a nearby park just north of the city, Gatineau Park.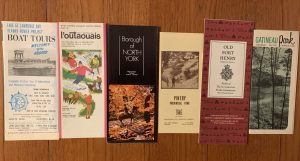 Finally we headed southwest, past Detroit, and stopping at some small town in southern Michigan to visit a set of father's cousins.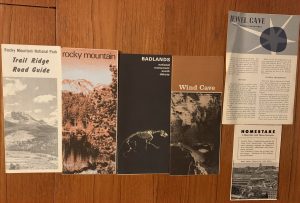 The 1970 trip was equally ambitious, though in a different way. Another full two weeks, but visiting just two places for multiple days of camping. First was Rocky Mountain National Park, for a full week. We got such a nice camp spot that my father dubbed it "Rocky Mountain Hilton." Somewhere I do have a few pics of this. Then we moved on to the Badlands of South Dakota, just a couple hundred miles northeast, with bare rock formations very much like parts of Death Valley. Heading for home, we made a stop at Mt. Rushmore (the only time I've ever been there), and also saw the nearby Crazy Horse Memorial, another ambitious mountain carving, started in 1948, in progress in 1970, and still in progress in 2020. (https://en.wikipedia.org/wiki/Crazy_Horse_Memorial).
Return to California, Summer 1971 to early 1978
By 1971 the decision was made to return to California, for any of three reasons. First, my father's mother in Cambridge had passed away. Second, the Batavia accelerator project, at least the portion my father worked on (he helped design the industrial support buildings at ground level, not a glamorous aspect of the project), was wrapping up. And third, and the public reason I recall my parents actually telling people, they decided they liked California better than Illinois.
So again, a staged trip. We packed up and left Glen Ellyn without having a new home in LA to move in to. But we had the reasonably convenient nearby grandparent. So again, my father parked his wife and kids with Grammie for the last couple months of the summer, and moved down to LA (I think he stayed with Uncle Bob for a time) to resume his job there at DMJM headquarters on Wilshire.
We had the second car by this time, so on the trip to California my Grandfather Kelly drove it, caravanning with us from Illinois (then somehow returning home, perhaps by train). So our mother and we four kids spent the summer in Apple Valley, with Grammie. She was still working at the time (for a social service agency in Victorville), and went to church on Sundays, but we had the Buick Skylark for my mother to get around in.
My parents had decided to return to the San Fernando Valley, though with no particular area in mind. It was just coincidence that the house they decided to buy was just down the street, on Hayvenhurst Avenue, from my uncle's house at 9511. Ours was 9340 Hayvenhurst.
Every family move took us to a place unlike all those before. Even though we returned to the San Fernando Valley with this move, the Hayvenhurst house was different from the one in Reseda in two or three ways. First, in was on a major street, with two lanes of traffic in each direction. So unlike the quiet Rhea Avenue house, the one on Hayvenhurst had moderately-speeded traffic going by all day. Second, for this reason, there were no driveways in front of the houses. Instead we had a garage accessed from the alley in back. In practice this meant the two family cars were invariably parked at the curb in front of the house. And third—the Hayvenhurst house had a swimming pool! The symbol of southern California life.
The house was not very big; just 1366 square feet. (The Reseda house, with the same number of rooms, was 1200 square feet; the Glen Ellyn house with an added family room, was 1750 square feet.) There were four bedrooms, two baths, a living room with dining area in one corner, and a kitchen. There was a garage in back taking up a big corner of the back yard (just like one had done in Santa Monica). The pool occupied half the yard; in the other half there was a trellis-covered concrete patio between the garage and the house. For a while we had a ping pong table there. And my father's grill.
My parents had the master bedroom at the back left corner of the house, Lisa and Sue the bedroom next to that. I had my own bedroom at the front of the house, and Kevin had his in the front left corner of the house. One bathroom for the parents, the other for all four kids.
Church
Once again, my parents found a local church to attend, Valley Presbyterian Church (https://www.valleypresbyterian.org/), but at age 16, having discovered books (especially those by Isaac Asimov), I had perceived the contingency of religious belief, and simply declined to attend. More about this in my memoirs.
Parental Talents
My mother went through a phase of exploring cuisine from other cultures. I identify this with the Hayvenhurst house, though it's possible it began earlier, in Glen Ellyn or even Reseda. As I've said, my father ideally liked a steak, baked potato, and perhaps lettuce salad with blue cheese dressing as his ideal dinner, but that wasn't practical very often for a family of six. Still, we ate meat for dinner fairly often, even if it was (to recall a specific example) a meat loaf with three hard-boiled eggs buried in the middle, so that each slice of meat loaf would come with a cross section of egg. For the most part my mother fixed dinners she expected all of us kids to eat, but there was one prominent exception: my parents both like liver and onions, and they didn't expect their kids to share that taste (and I for one never have), so on those evenings she made something just for kids: fish sticks, I think.
It's a mark of the times, rather than our family in particular, what kinds of food were available in the market then, and that we ate. Never fresh fish; we did eat fish sticks as I said, and canned tuna (e.g. in tuna-noodle casserole). Rarely fresh vegetables, except perhaps salad fixings, and potatoes and maybe carrots. Rather, canned or frozen vegetables: corn, peas, Lima beans. The 21st century is a utopia of diverse and freely available fresh food, at least in the cities, compared to the 1960s and '70s.
Anyway, my mother took to finding recipes from "foreign" cultures, and fixing some special meal maybe once a month. I particularly remember her Indian chicken curry, with its thick yellow sauce on top of white rice, and four or five side condiments: raisins, chutney, peanuts, coconut. (I've made curry dishes myself dozens of times over the decades, and never quite recreated the recipe of my mother's that cemented my taste for the dish.) Another was "Greek chicken," pieces of roasted chicken served on top of a bed of rice flavored with tomato and cinnamon. And various Mexican dishes, such as tacos and enchiladas, though influenced by Americanized versions of these dishes: tacos in hard shells, with ground beef and toppings of grated cheddar cheese, chopped lettuce, and salsa. And she tried quesadillas, in an era when Americans were pronouncing it "kwess-ah-dill-ahs." I'm sure there were others that I'm not remembering; perhaps Hungarian Beef Stroganoff, on buttered noodles? Likely so. Perhaps my siblings recall others.
My father was a home handy-man, and home craftsman. (I think Kevin must have inherited this talent.) In Reseda he built himself an elaborate L-shaped home work desk, with legs and frame of steel girders (painted flat black), a desk top of walnut-stained plywood, and two bookcases mounted above (on back legs that extended up 6 feet), with florescent lights on their undersides. I don't recall how much time he spent using that desk to work from home, but I do recall using it to build my model cars, back in Reseda.
That home work desk moved with us to Glen Ellyn, and then back to California, by that time becoming a smaller desk in my bedroom; he cut the L-shaped desk down to a single rectangular desk, with one bookcase and florescent light above. (Even while in my bedroom, all the way through its return to California, that upper bookcase was filled with my father's architectural and technical books, those he'd accumulated over the years…. And which today reside in my garage.) When the family left California for Tennessee, in 1978, I was left just with the piece of desktop, which I used as a desk for several years supported by boxes of packed books. And today, that's in my garage too.
More impressive was my father's creation of a "camp kitchen," for the family camping trips that began during our stay in Illinois. I'm pretty sure he had built it by the time we camped in Rocky Mountain National Park. This "camp kitchen" was a pine box with folding legs, maybe four feet by two by one, the sides folding down flat, and divided inside into compartments for a camp stove and various supplies. When we went camping, he would set it up, and it would become kitchen central for our campsite. I recall neighboring campers being impressed, and my father explaining how he built it.
I have just two partial photos of this device, from some occasion when my father drove to Apple Valley in his pickup truck and camper (in the '80s). Here he is with Sue's husband Steve; they are removing the bottom panel that conceals the folding legs.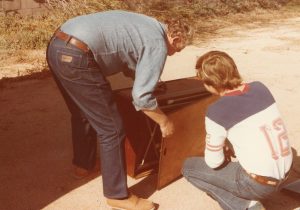 I wonder what ever happened to it, once my father returned to California, after my mother's death, to live in apartments and condos.
Family Vacations
More family camping trips.
There wasn't one in 1971 because we hadn't moved to a house yet; we had no home base to leave from. The family wasn't all living together until nearly the end of summer when we moved into the Hayvenhurst house.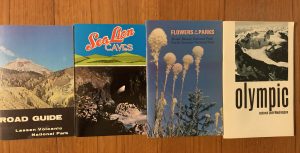 In 1972 was the last family trip I was on. This was an ambitious trip up the west coast to Oregon and Washington. We began by driving north up the I5, then veering east to visit Lassen Volcanic National Park – I remember roadside shops with pieces of volcanic rock, obsidian, of which I have a couple small pieces. Then further north, to Crater Lake in Oregon, where we camped for two or three days in a campground along the east side of the lake ridge. And then further north, into Washington, but avoiding the cities, instead to Olympic National Park, oddly for the west coast almost like a rain forest, very damp. Then we drove down the coast, right along the Pacific. We stopped at a place called Gleneden Beach, in Oregon, where a family friend – Chuck something, I don't remember — had become a manager of a resort called Salishan Coastal Lodge. (Chuck was perhaps an Air Force buddy of my father's; anyway we knew him in Apple Valley. The photo somewhere of me at age 4 or 5 with a cat on my lap, in a big armchair, was at his apartment somewhere in the north of Apple Valley. He remained single, and I came to wonder… But if so, why isolate himself in a remote Oregon lodge?) My father told him we would stay at a nearby campground, but Chuck insisted we stay at the lodge, where he put us up in an unoccupied room for the night.
After that, we continued down the Oregon and California coasts, presumably passing right through San Francisco. We'd planned on driving Route 1 through Big Sur, and so back to SoCal, but a forest fire in the coastal ranges had closed Route 1, and so we had to detour east to the relatively boring route 101 – actually it was I5, I remember it — for the last leg of the trip.
Notes from my journals in those years indicate that in 1973 a car trip to Illinois was planned, but did not happen. No family vacation that year. And then in 1975 my father planned a trip to Glacier National Park, in Montana, but again, plans fell through and no trip was made. I suppose it was getting more difficult to arrange family trips, and we kids were getting older, with our own friends and activities. By 1975 I was 20, Sue was 17, Lisa 13, Kevin 11. And we were all getting a little too big for six of us to fit into a car for two weeks.
I have no records of family trips in 1974, 1976, or 1977, the last summer before the family, minus Sue and me, moved to Tennessee. But being in college, age 19 or 20, I was becoming more independent and less inclined to pile in a car with all my family. While I haven't found any specifics, in reviewing my journals of the era, I think there was one family trip that I simply declined to participate in. I stayed home while the rest of the family went somewhere, for a couple weeks.
I know that my parents, with Lisa and Kevin, continued similar family vacation/camping trips after they'd moved to Tennessee, because I have boxes of slides from those trips. But it's not for me to try to recount them.
(drafted 16oct20, revised 2jan21, polished and added more photos 16jan21)