Introduction (2020)–
As long promised, I'm posting scans of slides I inherited from father that show family history across the decades from even before I was born; along with photographs of various family artifacts (yearbooks, etc.).
I've also summarized family history, as best as I know or recall it, beginning with family trees that reach back into the 19th century, and following my parents and siblings' moves from one house to the next, up to 1979, when Sue and I stayed in LA and the rest moved to Tennessee. (There's another section on this site of my personal "memoirs," which overlap to some extent the family history essays here.)
(Note: there is some repetition among these pages, e.g. about SLR cameras, and between these pages and my memoir pages. But you won't notice unless you read through all of them at once.)
Family History Essays
Family Trees [4920 words]
My branch of the Kelly family derives from the Isle of Man, an island between England and Ireland. My father's ancestors arrived in northwest Illinois in 1868, and mixed with a Swedish colony (Bishop Hill) already established there. My mother's ancestors came to the US as early as 1830 from Germany; her line is a mix of French, German, English, and Swiss.
Family Timeline [860 words]
Key dates from the 1850s to 2020 in family history: births, marriages, deaths, home, family trips.
Cambridge to Apple Valley (1930s to 1958) [1466 words]
My parents' backgrounds in small-town Illinois; living in England while my father in the Air Force (when I was born); returning to the US and settling in the high desert of California.
First Apple Valley House (1958) [965 words]
A rental, cinder-block house in a remote corner of Apple Valley.
Second Apple Valley House (to 1962) [1258 words]
The first house I remember growing up in, that the family owned for another 20 years. Where we lived when my two younger sisters were born.
From LA to Illinois and Back Again (1962 to 1978) [7900 words]
Santa Monica, Reseda, Cambridge, Glen Ellyn, Apple Valley, Sepulveda: houses, family friends, churches, family vacations…
Family History Photos
These are separately tabbed on the drop-down menu above beneath Family History. There are more photos to scan, especially of my parents road trip through England before I was born, and their various vacations, which are mostly of scenic landscapes.
---
Inherited Photos and SLR Cameras
The photographs here are taken mostly from the three metal boxes of slides (Wikipedia now calls them Reversal film) that I acquired after my father's death in 2001. Here are two photos of the boxes.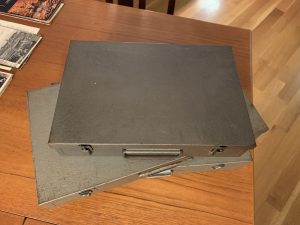 These contain photos my father took from the early 1950s, when he first bought a camera in his early 20s, to the mid-1960s. (He took many later photos but at some point bought a carousel slide projector and permanently stored later slides in rotary trays that fit into that.)
I remember these from growing up. My parents would have friends over, and my father would set up a 'slide show.' We had a portable screen, on a tripod, and a then primitive slide projector, where you would have to put each slide into place one by one, on a slider that you would push into the projector for viewing, and then back out, manually removing that slide for the next. (The carousel was a huge advance, for the mid 1960s.)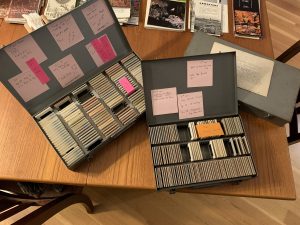 My father tightly packed these boxes with three slides into each slot. Of the three metal boxes, one (the closed one in the second photo) contained two or three hundred photos from their years in England (where I was born), including a long road trip across the country to Wales, with pages of annotations by my mother. I have not yet scanned any of these (in part because most are only landscapes; those with people in them I will eventually scan).
When my father died in 2001, and my sister Sue and I cleaned out the condo he'd been living in, I took the boxes of slides, and one box of loose photos and albums. Sue took a similar second box.
When I opened these metal boxes of slides some five years ago, I discovered they were completely disordered, as if all the slides had fallen out onto the floor at some point and then been randomly fitted back into the boxes. It took me some time to sort them through, with a couple different devices to view slides, and put them back into the boxes in some order. I did this almost five years ago, in the Summer of 2016. You can see in the second photo my post-its describing each group of slides.
There were some surprises! There are a few photos from the 1954 Rose Parade. That meant my parents (before I was born) made a trip to California — and other points out west — long before they returned to the States from their stay in England. I had not known that.
Now, to be clear, my father took all these photos using technology that has almost disappeared into the past, overtaken by electronic technology like iPhones. He had a single-lens reflex (SLR) camera, that he must have acquired early in the '50s (because I have those photos of people in Cambridge from the early '50s).
This is my own SLR camera, a Pentax, that I bought in 1979 before my first visit, from LA, to the family that had moved to Tullahoma TN.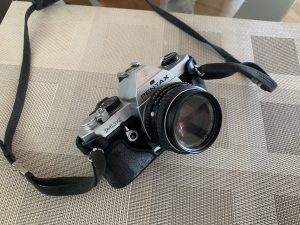 I'm recounting this because most people, I suspect, have no clue to how life was lived before they were born. (With the implicit theme that technology has changed culture faster than at any other time in the history of our species.) With a camera like this, you would go buy a roll of film, that came in a little yellow cylindrical canister. You would open up the back of camera, install that little yellow cylinder on one side, manually place the loose end of the film into the catches on the other end, and then wind the camera a couple strokes to make sure a clean bit of film would be in position. When you take a picture, you click on the shutter button, hear the click of the shutter opening to expose the film for a split second, and then twist the crank to advance the film inside to the next available section of film. It was all very manual.
And when the whole roll of film was done, i.e. exposed, you rewound it in the camera, and opened the back of the camera (taking care not to expose the roll of film to any light), and took the canister to a photo shop. It could take a week or two to get the photo, either slides or glossy prints back, either back at the photo shop, or by mail.
Once I got a camera like this, in 1979, there was a chain of Fotomats, kiosks you could drive up to and drop off your film, and pick them up in just a couple days.
As I pick up my camera, now, I'm not sure if there's a roll of film in it, which I may have taken 20 years ago before I transferred to digital phones. But clicking the shutter, and using the lever to advance the film, is a very satisfying sensory experience, one you don't quite get from tapping your finger on the iPhone.
Further, an SLR camera like this allows, or requires, you to manually set both the shutter speed (how long the film would be exposed) and the aperture opening (to control the amount of light that would hit the film). Early on my father had a separate device, a light meter, the size of a matchbox, to gauge how bright the camera subject was, so that you could properly set the shutter speed and aperture. Later camera (like this one I bought) were semi-automated, and later cameras became highly electronic, as browsing the web for SLR cameras will reveal. They all required understanding which combinations of aperture and shutter speeds would work in a given situation (example), or which to choose to produce a given effect (e.g. to control the depth of field).
Having had experience with my SLR camera decades ago makes it all the more amazing to me how well the cameras in modern smartphones work, automatically.