The Enterprise discovers a "sleeper ship" full of hibernating superhuman refugees from 1990s Earth, whose leader tries to take over the Enterprise.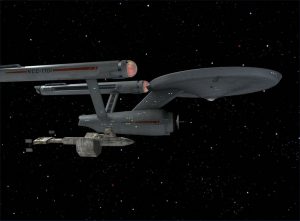 This is a classic episode – even disregarding its inspiration for the second Trek movie – with a striking theme and a powerful performance by guest star Ricardo Montalban.
The opening has the Enterprise pursuing a signal of some ship ahead, in a seldom visited region of space. They discover an old Earth ship, of type DY-100, built in the 1990s (!), built only for interplanetary travel, with signals of life aboard. There's a bit of malarkey about Morse code.
The enhanced graphics show the ship, the Botany Bay, idly in space, slowly rotating as if in unguided freefall. This is a nice touch, in a universe in which all spaceships are uncritically assumed to be traveling in the same plane, always level with each other. (In the original graphics, the Enterprise pulls up alongside the Botany Bay, like a larger naval ship coming alongside a smaller ship.)
The striking premise emerges: in Trek history, the 1990s was the era of Earth's last 'World War', the 'Eugenics Wars', in which "a group of ambitious scientists" intent on improving the species created a race of superior men, who then took over the world, for a while, until they were overthrown. The Enterprise crew soon realizes that the passengers on this ship, in suspended animation 'sleep', are refugees from that race.
First point here: this history is unusually dark for Trek, in which Roddenberry especially emphasized how by the 23rd century many of humanity's problems should have been overcome. Also, it paints scientists as villains, a not unusual theme for Trek, but a disconcerting one given that future ideal.
Second point here: If these superior genetically enhanced people took over the world in the 1990s, they must have been generated in the 1970s, at latest. Not very long in the future for when this episode was made. A point I haven't seen observed anywhere else.
We are introduced to the ship's 'historian', Lt. Marla McGivers, whose quarters are filled with statues and paintings of famous military men throughout history. Does the Enterprise really have a full-time historian? Wouldn't it be more plausible that she were some ordinary crewman who happened to have a passion for history?
This episode has McCoy's famous line, as he is obliged to enter the transporter: "I signed aboard this ship to practice medicine, not to have my atoms scattered back and forth across space by this gadget."
They beam over the Botany Bay, and realize it is a 'sleeper ship', a ship in which the passengers were put into suspended animation, since "until 2018" it took years just to travel between planets.
McGivers is immediately entranced by the sight of the leader [Montalban]: north Indian, she guesses, a Sikh. The sleeper mechanism failing, Kirk smashes the glass and pulls him out. He barely speaks: "How long?" He understands immediately the implication of his waking up. Kirk replies: "Two centuries."
Back on the Enterprise, Spock is irritated by the lack of facts. Kirk teases him; Spock pretends not to understand what irritation means. This exchange is typical of the first season (and likely lines written by Gene L. Coon); did these exchanges continue in the 2nd and 3rd seasons? I'm guessing not, but as I'm rewatching all these episodes in order, after not having seen most of them in 30 or 40 years, I'll wait to see.
As the Enterprise heads for Starbase 12 – a planet in the Gamma 400 star system, Kirk later mentions, a designation that makes no sense.
Khan wakes up in sickbay…stretching… and then using a knife handily found on a wall display to threaten McCoy. One might think that Khan should have been restrained immediately, for this attack, but no, Kirk is summoned and asks barely a question before Khan pleads fatigue except for wanting access to the starship's technical manuals. Hmm.
Spock does research: by 1993 those 'supermen' had seized power in 40 nations. And when they were overthrown, some 80 remained unaccounted for…
Kirk and crew, ignoring these warning signs, hold a stately dinner for Khan, wearing dress uniforms. Some good dialogue here: Spock asks questions; Khan gets annoyed, yet admires Kirk for sitting back, and observes, "It has been said that social occasions are only warfare concealed."
The success of this episode keys off Montalban's acting, and Madlyn Rhue's acting (she plays Lt. McGivers), in two key scenes. The first is before the dinner: Khan comes to her quarters, admires her artwork – including a painting of him. He kisses her – and the music score is that intense, swelling theme we've heard earlier in "Miri" (notes below).
And then after dinner, she comes to his cabin to apologize. He invites her to stay; she hesitates; he turns it into a demand for a request; "This grows tiresome. You must now *ask* to stay." She takes his hand. He clenches her hand, so hard that he forces her down onto the floor onto her knees. That music again. He tells her he intends to take the ship, and he needs her help. She is shocked, tries to refuse. He insists. And meekly she agrees. She gives in. All else follows. If the acting didn't work here — and it does — the following story wouldn't have worked.
Later, Kirk visits Khan with some direct questions. Some interesting dialogue here about the supposed 'evolution' of the human race. In two centuries.
And then Khan escapes his quarters, revives the others from his ship, and takes over the Enterprise, cutting off life support to the bridge, until everyone there passes out.
There's an interesting captain's log entry here, which I think illustrates how these monologues by William Shatner were recorded separately, later, than filming of the episode occurred – because the expression and tone of these log entries is so different from what Kirk might have said in the action at the time. This log entry begins with the bitter pronouncement: "They have my ship." For Captain Kirk, one can hardly imagine a more humiliating circumstance.
He then states commendations for the various bridge crew active at that time, before collapsing.
The showdown commences: the bridge crew, except for Kirk, are held in the briefing room, as Khan lectures them about the inevitability of his success, and asks any of them to join him – if they don't, he threatens, Kirk, being held in a decompression chamber, will suffocate. Uhura, threatened with physical violence, refuses to cooperate, good for her. McGivers, her allegiance to Khan threatened by the spectacle of watching Kirk die, sneaks out – and saves him. And so on.
There's a physical fight between Khan and Kirk in the engineering room, in which Kirk manages to win, despite Khan's claiming "I have five times your physical strength"… Is this plausible? Well, it's TV, and the stars of the show must win.
And in a final, provocative scene, Kirk holds a hearing to pronounce judgment on Khan, and McGivers. He will strand Khan and his crew on a remote planet, and offers McGivers a chance to join them, to avoid court-martial. She accepts.
The planet he mentions is in the 'Ceti Alpha star system'. The standard designation would be Alpha Ceti; the brightest star in the constellation Cetus. I note that Wikipedia's entry for this, https://en.wikipedia.org/wiki/Alpha_Ceti, offers a redirect for Star Trek's mention of "Ceti Alpha".
The final moments cite Milton's lines: "It is better to rule in hell than serve in heaven".
And: about how it might be interesting to return in 100 years "to learn what crop has sprung from the seed you planted today."
For once, there is no cute, humorous final scene (from Gene L. Coon).
Cushman's book describes the long journey from initial story idea by Carey Wilbur – reacted to by Trek production staff as being too Flash Gordon, about an evil villain initially describes as the kind of criminal who was sent to the Australian Botany Bay colony – to the final script, with rewrites by Coon and Roddenberry, with Roddenberry's idea about the eugenics wars and how to reconceive the central character as not a criminal but a kind of refugee (see p.518 of Cushman).
This confirms to me yet again about the generally unrecognized role TV show producers have in producing a unified product (at least for producers of TV series at that time). Script writers, who don't know about all the other scripts written for the series, and who may not have even seen earlier episodes of the series (especially in the first season of Trek), submit scripts with wildly variant ideas about the characters, and unrealistic notions of what kind of special effects and extra sets can be produced within a budget.
Music Notes:
Twice, when Khan wakes up in sickbay and again when he forces open the door of his quarters, we hear the Talosian theme, the twangy guitar theme, from "The Menagerie".
The two prominent themes here are the main Romulan theme, from "Balance of Terror" – when we see the Botany Bay – and the secondary "Mudd's Women" theme.
And as mentioned above, in two key scenes with Khan and Marla McGivers, an extra cue written by Joseph Mullendoor, previously heard in "Miri".
Blish adaptation, in ST2:
Again, Blish condenses the opening scenes to summary, a chief difference from the broadcast script being that Lt. Marla McGivers is a control systems specialist who happens to be a historian on the side. I always wondered why the Enterprise needed a full-time historian, as implied in the broadcast episode.
Better than Trek generally did, Blish makes a smart deduction from the position of an interplanetary vessel being out in interstellar space. "They must have been trying for the Tau Ceti system," the navigator says. A star only 12 light years from Earth. So that a 'sleeper ship' would reach there eventually, without taking forever.
Blish has more background about the Eugenics Wars and those behind them, e.g. how the selective breeding was among the scientists responsible themselves; how the "sports and monsters" appeared later, the result of "spontaneous mutations erupting from all the ambient radioactivity" once the war had already started. And that Khan – Blish gives his full name as Sibahl Khan Noonien [though elsewhere throughout, Blish's version spells it "Kahn"] – was one of those scientists' children.
Per policy, Blish doesn't include any of the scenes between Khan and McGivers.
During the dinner party scene, Blish has Spock challenge Khan about never being afraid. Spock asks, "And does that not frighten you?" Khan thinks this is a contradiction. Spock replies, "Not at all. It is a null class in the class of all classes not member of the given class." Now that's logic.
Blish makes the focus of the story more on the question of why Khan and his people fled Earth, with Spock trying to apply psychology to draw Khan out—if he wasn't afraid of anything, why did he flee? The broadcast version focused more on Khan seducing McGivers.
Blish condenses the action scenes – omitting Kirk and Khan's fight in engineering altogether – into one short paragraph, before commencing with the trial scene. Beginning with an answer to the question of why they fled: "To free themselves of the rabble, and start fresh." But Spock thinks, "In my opinion they would never have succeeded, even had they made it to a habitable world. The man who cannot know fear is gravely handicapped."
The trial ends with Khan and McGivers exiled to a planet – which here Kirk does not name – and Khan invoking Milton. But Blish adds a line apparently scripted but left out of the broadcast version. After Spock says it would be interesting to return in 100 years, "to learn what crop has sprung from the seed you planted today," Kirk replies: "I only hope than in a hundred years, that crop won't have sprung right out of the ground come out looking for us."
A last line that inspired the second Trek film.