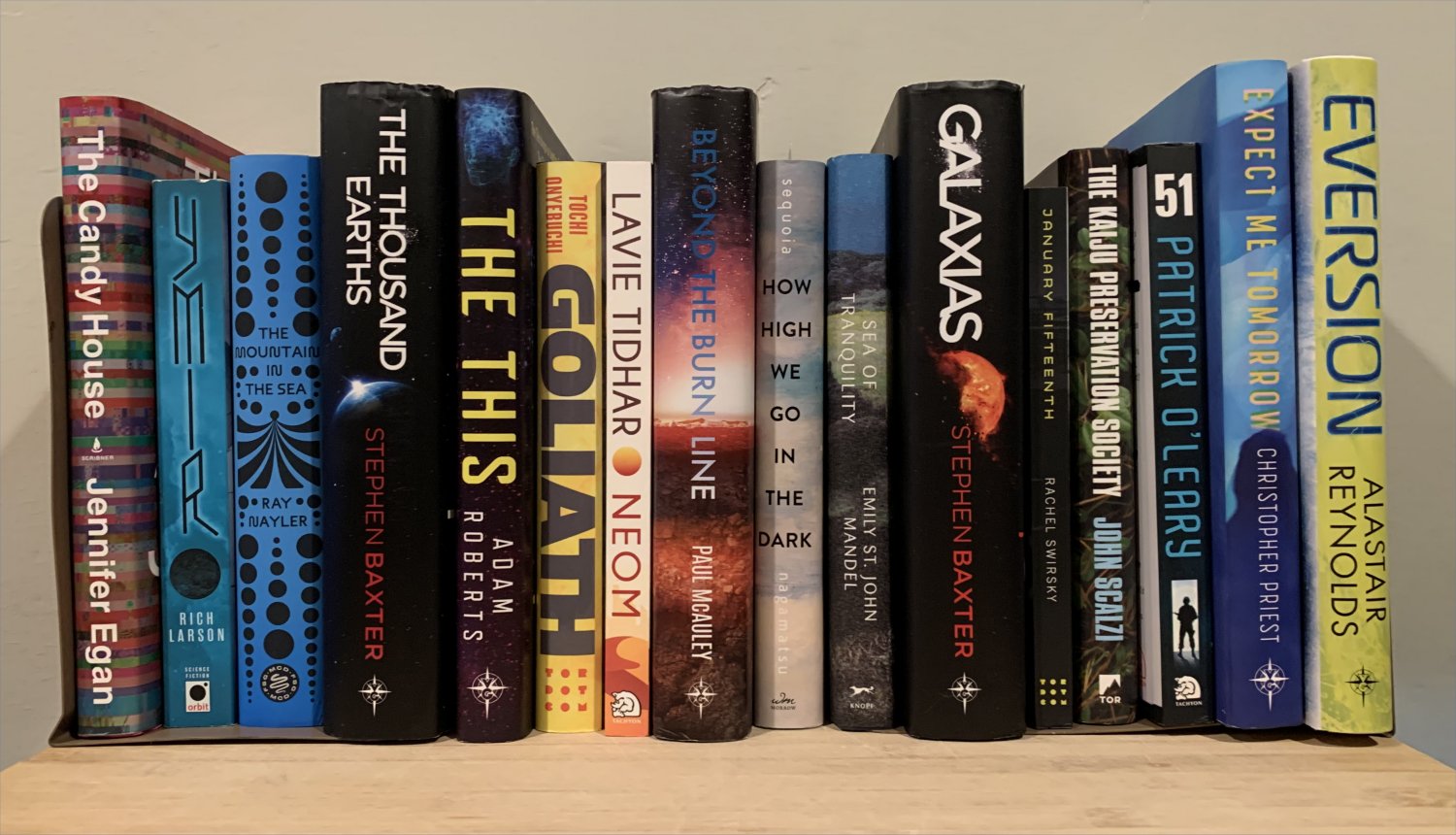 It's been obvious for a couple decades that fantasy is outselling science fiction, and dominates the books critics speak of when compile lists of the "best science fiction and fantasy" of the year.
Today's post is about how that is playing out in 2022.
Recently I had reason to flip through the past year's issues of Locus Magazine, and tallied how many book reviews were for SF books vs fantasy (or horror) books. Of the 60 reviews I sampled, 38 were fantasy/horror, 22 science fiction. (Further, few of the 22 were true-blue, obvious science fiction titles, as opposed to literary novels, often from small presses, that happened to have SF elements. But that's another discussion.)
There are many reasons why this is happening, and many lines of evidence I could follow, but for today I'm interested in the various "best books of 2022" lists that are beginning to appear. In concert with those, I've decided to play a more active role in the compilation of Locus' annual "Recommended Reading List" than I have in recent years, and to read as many SF novels as I can by the end of the year — when that List is finalized — especially to recommend any SF novels I find to admire that I might think could be overlooked. (Like, novels published in the UK.)
I've lined up a shelf of 2022 SF novels (see photo above) and am part-way through reading them. The novels I've bought to read are those by writers I've admired, those mentioned by reviewers (including those at Locus) I trust, and those mentioned by Facebook friends I trust. I am not much motivated by best-seller lists.
Based on those latter two criteria, I'm guessing Ray Nayler's THE MOUNTAIN IN THE SEA, a debut novel, will be high on awards ballots next year. That's the only title I've seen much consensus on. (In fantasy, there's a consensus building on R.F. Kuang's BABEL)
Let's look at the "best of 2022" lists I've seen so far. The issue here is: how many of these are science fiction, vs. how many are fantasy/horror.
\
Publishers Weekly: Best SF/Fantasy/Horror
Seven titles. Nayler is here. The others are described as "Scholomance fantasy" (Novik), "classic haunted house story" (Cañas), a "blend of gothic horror and science fiction" (Ennes), "portal fantasy" (Tsujimura), "Dark Star fantasy" (James), "space opera: it's a queer, sci-fi take…" (Maxwell). So, perhaps three SF?
\
Amazon: Best science fiction and fantasy of 2022
Twenty titles, led by Stephen King's FAIRY TALE, which got decent mainstream reviews but which none of my Fb friends have been enthusiastic about. (I like Stephen King and read about every fourth of his novels. But not this one.) I'm not sure if the list is ranked; if so, King is 1st, and Nayler is 19th.
Others include Mandel (superficial SF in my take), Scalzi (which I read; cute, but inconsequential), and Nagamatsu's HOW HIGH WE GO IN THE DARK (a literary novel with SF elements… I'm currently half way through this).
\
Barnes & Noble: Barnes & Noble's Best Science Fiction & Fantasy of 2022
A list of 10, including R.F. Kuang's BABEL, an historical fantasy, a book that is so frequently mentioned it will rival Nayler in contests that pit SF and fantasy together. Nothing on this list looks like science fiction; it's all fantasy.
\
BookPage: Best Science Fiction & Fantasy of 2022
I'm not familiar with this site; I saw a link to this page on Facebook. Ten books on the list, in alphabetical order by title. Kuang is here, as is the latest by Guy Gavriel Kay (a writer I admire from reading a couple of his books, but again, they're fantasy). The others are described as "a haunting story that's part fairy tale and part nightmare", "this fantasy novel is a tender love story", "perfect for readers who wish that Wuthering Heights had been more like Jeff VanderMeer's Annihilation" (this one was on one of the other lists), "an enthralling dance over the line between literary fiction and magical fantasy", a "dark fantasy", an "historical fantasy", a "a hilarious reimagining of Hell as a corporate nightmare", and "Inspired by traditional tales of Baba Yaga".
Where's any science fiction here? Is SF passe, out of fashion? I get no hints from any of these lists for science fiction novels I haven't already heard of from my Facebook friends…
\
One more, by a more authoritative reviewer.
Washington Post, Charlie Jane Anders, 17 Nov 2022: The 9 best science fiction and fantasy novels of 2022
They are by Kuang, Nagamatsu, Chambers, Jemisin, Basu, Shepherd, Cochrane, Lemberg, Giddings. The second, third, and fifth are science fiction.
\\
So what SF novels am I looking at to read, and inclined to recommend if worthy? These include several UK publications with no editions in the US yet. Stephen Baxter: GALAXIAS. Stephen Baxter: THE THOUSAND EARTHS. Christopher Priest: EXPECT ME TOMORROW. Alastair Reynolds: EVERSION. Patrick O'Leary: 51. Rich Larson: YMIR. Jennifer Egan: THE CANDY HOUSE (even though this is a ~science fiction by a literary novelist, as was Mandel's). Adam Roberts, THE THIS. Tochi Onyebuchi, GOLIATH. Lavie Tidhar: NEOM. Paul McAuley: BEYOND THE BURN LINE. Sequoia Nagamatsu: HOW HIGH WE GO IN THE DARK. Earlier this year I read John Scalzi: THE KAIJU PRESERVATION SOCIETY and Rachel Swirsky: JANUARY FIFTEENTH. Also possibly: Cormac McCarthy's THE PASSENGER and its companion novel coming out in December, which apparently deal with cosmic issues but are probably not actually science fiction.
That's my shelf of 2022 SF novels to read. Have already read several of them, despite not having posted here about them. Yet.