The earliest people who objected to Christmas were… the Puritans. And a piece about famous people who own lots of books.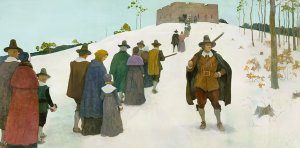 Here's yet another example of how things that are true today have not always been true — in this case about a Conservative talking point about the "War on Christmas."
The Conversation, Peter C. Mancall (a USC humanities professor), 17 Dec 2020 (via Snopes, via Fb): Why the Puritans cracked down on celebrating Christmas
When winter cold settles in across the U.S., the alleged "War on Christmas" heats up.

In recent years, department store greeters and Starbucks cups have sparked furor by wishing customers "happy holidays." This year, with state officials warning of holiday gatherings becoming superspreader events in the midst of a pandemic, opponents of some public health measures to limit the spread of the pandemic are already casting them as attacks on the Christian holiday.

But debates about celebrating Christmas go back to the 17th century. The Puritans, it turns out, were not too keen on the holiday. They first discouraged Yuletide festivities and later outright banned them.

At first glance, banning Christmas celebrations might seem like a natural extension of a stereotype of the Puritans as joyless and humorless that persists to this day.

But as a scholar who has written about the Puritans, I see their hostility toward holiday gaiety as less about their alleged asceticism and more about their desire to impose their will on the people of New England – Natives and immigrants alike.
The piece goes on about the Puritans' disapproval of Christmas celebrations in England. And how in Massachusetts they exiled those who did not share their views. Concluding:
What the Puritans did want was a society dominated by their views. This made them eager to convert Natives to Christianity, which they managed to do in some places. They tried to quash what they saw as usurious business practices within their community, and in Plymouth they executed a teenager who had sex with animals, the punishment prescribed by the Book of Leviticus. When the Puritans believed that Indigenous people might attack them or undermine their economy, they lashed out – most notoriously in 1637, when they set a Pequot village on fire, murdered those who tried to flee and sold captives into slavery.

By comparison to their treatment of Natives and fellow colonists who rebuffed their unbending vision, the Puritan campaign against Christmas seems tame. But it is a reminder of what can happen when the self-righteous control the levers of power in a society and seek to mold a world in their image.
Sounds familiar.
\\
Here's another older piece forwarded to me by a friend, which I dimly recall seeing before:
LitHub, Emily Temple, 22 Jun 2017: 10 Famous Book Hoarders, subtitled "Karl Lagerfeld Has More Books Than You"
See article for photos and commentary.
I guess the key word here is "famous," because most people suppose that anyone having a large personal library must be a nerd or a recluse or an academic. But these are *famous* people, people you've heard of! Still, "book hoarder" is think is unfair; it calls to mind those stories of pack rats who save every newspaper in huge stacks in their apartment, one of which eventually falls over and kills them. But all sorts of people accumulate large libraries without being a hoarder; the article misses that distinction.
The theme of the article is more correctly "10 Lavish Personal Libraries". Most of them anyway — elaborate, multi-level, wood paneled. Based on the photos, George Lucas's is the best. The article pays attention to numbers — Karl Lagerfeld, with 300,000; George Lucas, with 27,000; Nigella Lawson, with 6,000. But relatively little attention to what kind of books these were — let alone whether (the perennial question to people with substantial libraries) they've "read" most of their books. That's a non-issue, as I plan to write about sometime, and for people like Lagerfeld and Lawson it's easily answered: art books and cookbooks, so no, it's not like owning a library of books you'd actually read. (In fact, this is another angle about that question I hadn't considered…)
The article mentions some runners-up: Oprah, with 1,500 books; Marilyn Monroe, with 400 books, and so on. 400 books? That's about two bookcases!
All very interesting. But there are plenty authors, and readers, with very extensive libraries — they just aren't "famous" by this article's reckoning. I'm certainly not famous, but I have about 9,000 books (having trimmed down from over 12,000); Charles Brown, moderately famous within his field, must surely have had 25,000 or more, and an equal number of fiction magazines published from the 1930s to the 2010s. (I think I also have some 2000 magazine issues.)
The science fiction reader with the biggest book collection I'm aware of is Don D'Ammassa, a frequent Facebook poster and prolific reviewer (SFE) who once posted on Fb an aerial view of his property, in some wooded area of a Midwest state. It consists of a main house, plus an outbuilding nearly as large as the main house. The outbuilding is his library.
Endpiece
Relatively large rainstorm blowing through the Bay Area since yesterday — light rain then, heavier rain today. It was dark enough today that the photo-sensitive Christmas lights on our balconies never went out all day.
More personally, I had some health issue beginning late yesterday afternoon; without going into details, they were consistent with bouts of food poisoning, or food allergies, that I've experienced in the past. Mostly better by this morning, but I skipped today's cardiac therapy session, and took two naps, still feeling chilly. Y thinks seafood is to blame. I've known I'm allergic to mussels for 20 years now. Calamari? The take-out from the Thai place this weekend?
We made our annual batch of rusks, yesterday and today; I did most of the mixing, and then Y supervised most of the rising and baking.
And so today, with the dark rain outside, we listened to bland Christmas music — bland but in a way comforting for its familiarity — all day.