Here's a set of family pics from 1964, when I was maybe 9 years old and my brother was a year or two old. I was the eldest of four siblings; next came Susan (Sue as an adult), Lisa, then Kevin. The family had moved around often enough that none of us siblings were born in the same hospital. I was born in England; Sue in Apple Valley; Lisa in Santa Monica; Kevin in Northridge, near where we lived in Reseda.
Here's the house, 6516 Rhea Avenue, in a shot that I took in 1979, 15 years later, after the family had moved back to Tennessee while I (and Sue) remained in California, and I had bought my first camera (a Pentax SLR).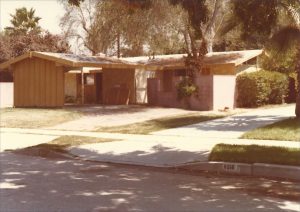 It was a small 4-bedroom house with a carport rather than a garage, and a storage room for lawn equipment and tools in the connection between the carport and the house. The house had open-beamed ceilings — i.e. no flat ceilings, just visible beams beneath the angled roof — and it had windows at each end of the house beneath the roofline (as you can see at this south end). I remember that my father liked the open airiness of it; he always liked open floor plans.
When we lived there my father installed aluminum 'siding' on the exterior walls, rather than painting the stucco. Such siding was in fashion at the time.
The irregular block wall in the corner of this first shot was added by later owners, I think. I remember there being a big rectangular patch of ivy in that space in front of the two front bedrooms. Kevin and I shared the leftmost bedroom at the front of the house; Susan and Lisa the corner front bedroom. Master bedroom was in rear right corner, and a fourth bedroom was used by my father as a 'den' or home drafting space. He built his own L-shaped table with a steal beam frame, a mahogony stained plywood table top, and two overhead bookcases mounted at the top of the upright frame legs.
I remember there were lots of spiders in the back yard, including the occasional black widow. We had to be careful.
This first, of mother and baby Kevin, appears to be an earlier pic.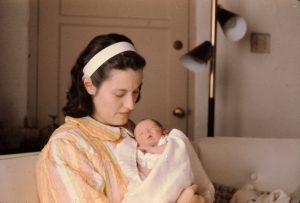 Then there's a set of driveway pics of the whole family (except my father, who took them).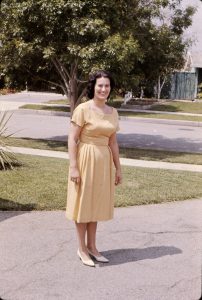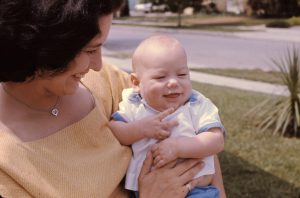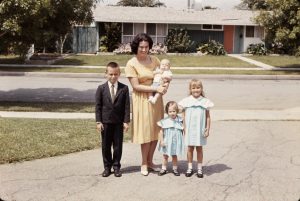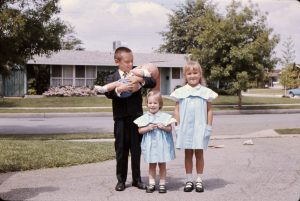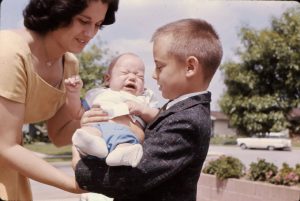 A couple more pics show the two sisters in front of our new car, in the carport. It was a 1964 Chevrolet Chevelle station wagon, the first year of a new mid-sized model from Chevrolet. It succeeded the '53 Chevy seen in the First Apple Valley house set. I had the impression at the time that my father kept a car forever (compared to some other people), but when he did buy a new car, he bought exactly what he wanted, which entailed placing an order with the local dealership, and waiting a couple months for that particular car to be built in Detroit and shipped to LA. (In those days, every possible option was separately selectable, as opposed to 'packages' of options typical now; and there were far more color options than there are today.) Yet I also remember there was some interim between the '53 car and this one — perhaps the old one had given out and was no longer derivable? — because in that interim we had a loaner, of all things a bright red Chevy Impala convertible, which sat in that carport for several weeks, almost embarrassingly. It wasn't my father's style.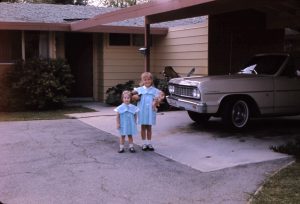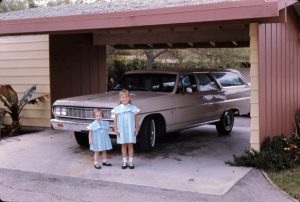 On the other hand, we didn't actually have this car very long, because the next car was a 1968 Buick Sportwagon — an example off the internet looks like this: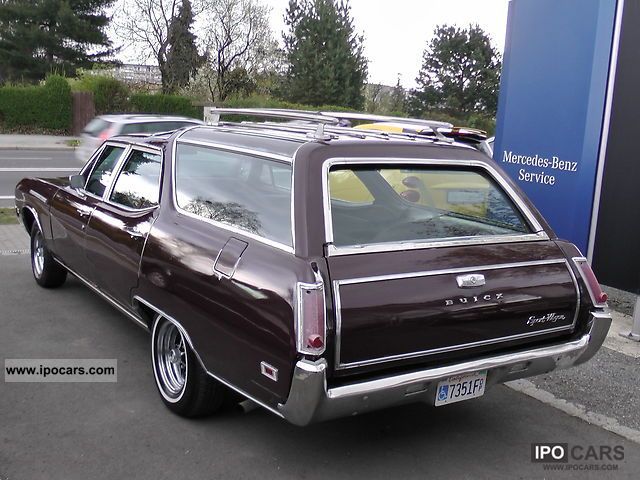 –And at this remove I don't remember why my father sold the Chevelle and bought this, or even if it happened before or after we moved from California back east, in the early months of 1968.
The Buick had that raised roof at the back, with the narrow skylight side windows and a roof pane directly above the second seats; a tailgate that opened flat or swung open like a door; and small fold-up third seat at the very back, that faced backwards.
We lived in Reseda from mid-1962, I think, until early 1968, when we relocated to Illinois. So my little brother Kevin, right about 4 at the time of the move, probably has only the faintest memories of the Reseda house, much like my vague memories of the First Apple Valley house.
— posted April 2017