I realize I'm not certain when and where these photos were taken. I had been thinking they were from an event at Sue's house in Arleta — but I remember Uncle Bruce being there, and he's not in these pics. (Also, Sue and Steve weren't married and living in Arleta while Grammie was still alive.) Further, the pool here is not an in-ground pool. So I think this what at Uncle Bob's house, in Sepulveda, since Paula (his daughter) and husband Denny were there, and Uncle Bob is apparently focused on their new kid. Further Grammie is there, so it's before January 1984; and Kevin is there, so I'm guessing this was during his trip to California for 3 weeks in July 1983. Or was it? He looks about the same as in those 1979 photos… Oh — and it's Sue's birthday! And hers is July 26. So that supports the 1983 period when Kevin was in LA.
Anyway, the pool party photos are in the same folder as a bunch of my Uncle Bob and his house, so I'll assume they go together. My Uncle Bob (my mother's brother, born 1935). He got married early on, had one daughter, Paula, then divorced and lived as a gay man the rest of his life. He shared the Sepulveda house with his partner, Mark Mandell (which I think was a partially fictitious name).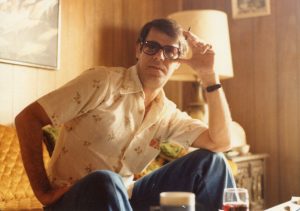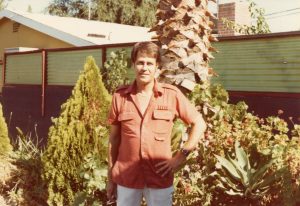 His house (at 9511 Hayvenhurst Ave.):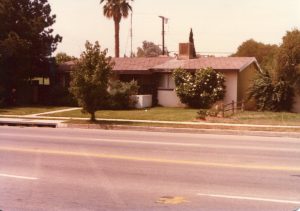 The pool party. Uncle Bob, Paula and Denny, a child (their first?), a baby (their second?), Sue with birthday cake, Steve (her husband), Grammie with baby, Kevin.