2017: Over the past year I've been perusing family trees on both my father's and mother's sides, each of which goes back several generations, on one side to the first generation born overseas that immigrated to the US – i.e., "first generation". (It seems that the terms "first-generation" and "second-generation" are ambiguous, c.f. Wikipedia at https://en.wikipedia.org/wiki/Immigrant_generations; I will follow its advice that "among demographers and other social scientists" the term "first-generation" refers to foreign-born who first settled in the US.)
The details of my family history are likely to be of little interest to anyone outside my branch of the Kelly family – which is to say, my brother and surviving sister, my nephews and nieces – but there are general trends that might be of interest to other readers, especially about family sizes, infant mortality rates, and mysterious deaths at sea, among families and immigrants of the past century or two.
In the summary and details below, I'm bold-facing direct ancestors of mine.
*
Summary of father's side
First, my father's side – the Kelly family name side. While Kelly is usually thought an Irish name, my branch of the Kelly family hails from the Isle of Man, a small island between England and Ireland that has never officially belonged to either Ireland or Great Britain/the United Kingdom (per Wikipedia: https://en.wikipedia.org/wiki/Isle_of_Man). I have a copy of a Kelly family tree compiled in 1966, and apparently based on an earlier 1936 family tree, with introductory passages about the Isle of Man and its lore, including Manx cats, and a Kelly family emblem, a triskelion, on the cover. (Image below.)
I realize that this family tree is now fully 50 years old, but since I'm exploring my own family's past, and not the many contemporary branches since I was born, it's sufficient for my purpose. And relevant to any of my siblings and nieces and nephews who might be reading this.
My great-great grandfather was William Henry Kelly, born 9 August 1844 on the Isle of Man; likely the second or third of seven children. He arrived in Illinois in 1868, and by the usage above was a first-generation immigrant; he died 15 May 1921, at the age of 77.
My great-grandfather was William Henry (Harry) Kelly, born 25 June 1871, in Illinois; second of nine children (his father was 26 at the time of his birth); he died 21 November 1951, at the age of 80.
My grandfather on this side was Harry Emery Kelly, born 27 March 1902, in Illinois, an only child (his father was 30 at the time of his birth); he died in the Fall of 1992, at the age of 90.
My father was Robert Harry Kelly, born 5 September 1933 in Illinois; he was the 2nd of 3 children (his father was 31 at the time of his birth); he died 13 January 2001, at the age of 67.
I, Mark Robert Kelly, was born 30 August 1955, in Melton, England, while my parents were stationed overseas. (My father was 21, almost 22, when I was born.) I was the oldest of four children. And I'm still alive, now age 61.
So I am, by this count, to a first approximation, a fifth-generation Irish immigrant – if you consider the Kelly name to be essentially Irish in descent.
Summary of mother's side:
The Pierce family tree traces four generations back on two sides, though typically only through the male ancestors.
My great-great-grandfather on my grandfather's side was Darius Austin Pierce, born 14 Jun 1830 in Delaware, NY, and who died 23 Oct 1920, at the age of 90. (There's nothing in these family trees about when Darius' ancestors first came to the US.)
My great-great-grandfather on my grandmother's side was Franciscus Peter DeVries, born 25 Dec 1825 in Hanover, Germany, and who died 22 Jan 1899 in Chicago, at the age of 73.
My great-grandfather on my grandfather's side was William August Pierce, born 10 Apr 1878 in Knox Country, IL, and who died in Phoenix AZ, date unknown.
My great-grandfather on my grandmother's side was Jonathan H. Curtis, born 2 Feb 1855 in Essex Country, NJ, and who died 10 Mar 1911, at the age of 56. My grandmother, Lelia, was the youngest of eight children.
My grandfather was Byron Leslie Pierce, born 11 Aug 1900 in Altona, IL, and who died when my mother was a child; I knew only my grandmother, Lelia Marjorie Curtis, born 22 Nov 1900 in San Jose, IL, and who died 5 Jan 1984 in Apple Valley CA, at the age of 83.
My mother was Helen Elizabeth Pierce, born 23 Jan 1934 in Kewanee, IL; she was older of two children (born when both of her parents were 33); she died, mysteriously in her sleep, 30 July 1986 in Tullahoma TN, at the age of 52. [Note: the DeVries family tree compiled by my uncle in 2003 has this death date wrong, as in 1983. I have no way to know if there might be other errors in that document.]
And I, Mark Robert Kelly, was born 30 August 1955, in Melton, England, while my parents were stationed overseas. My father was 21, almost 22, when I was born; my mother was 21.
– – –
Details of father's side
Here's a scan of the Kelly Family Tree that I have.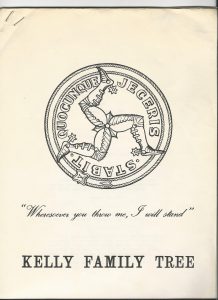 After five more pages of background about the Isle of Man, there is this page: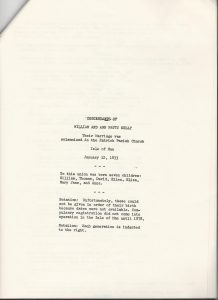 Here's the text:
– – – – –
DESCENDANTS OF
WILLIAM AND ANN PATTY KELLY
Their Marriage was
Solemnized in the Patrick Parish Church
Isle of Man
January 12, 1833
– – –
To this union was born seven children:
William, Thomas, David, Ellen, Eliza, Mary Jane, and Anna.
– – –
Notation: Unfortunately, these could not be given in order of their birth because dates were not available. Compulsory registration did not come into operation in the Isle of Man until 1878.
– – – – –
My ancestor of those seven children is William Henry. Before following his family line down to present, here are summaries of the other six, omitting many details, in the order they're compiled in the family tree:
Eliza: born 19 March 1839, married William Andrewartha on Isle of Man in 1863. They had four children, whose descendants ended up in northwest Illinois, in Kewanee, Peoria, Galva, etc.
Mary Jane (no birth date indicated) married Ceaser Cain, and had five children. One, never married, drowned at sea. Another, never married, died at 35. A third, Mary Jane, died at age 3. The other two, Augustes Cain and Margaret Ann Cain, married and settled in Illinois.
William Henry (born 9 August 1844) – see below.
Thomas: born 19 March 1847 on the Isle of Man; married Jane Craine Kewish in 1888; died in 1928. "Jane Kewish had two sons by a previous marriage, Robert and James Kewish, and they were raised by Thomas Kelly as his own sons." Thomas and Jane had three children of their own. Two died in infancy. The third lived until 1966, and had five children. The first of these children, Bernice Elizabeth Kelly, born 1912, was married in 1932, had two children, and got divorced in 1936, giving her children up for adoption. (One of these children, Dorothy Jane, also married, divorced, and remarried, with children, living in Texas when this family tree was compiled.) Bernice married a second time with no children, and a third time in 1943, with further details I'll not detail, except to note that they all ended up in Galva IL and environs.
David: born 10 December 1850 on the Isle of Man; came to Galva IL with brother Thomas, in 1868, following their older brother William. He married in 1878 to Christian Kennish, daughter of parents from the Isle of Man. Those parents, with 12 children, had migrated to Holt County, Missouri, in 1870. Their son "David Edward, moved to Holt County in 1880 where he bought and improved a farm of a new land in the same section as her father, in that new country. In February, 1890, he bought the first 80 acres of the farm he later enlarged at Greeley, Colorado. The family thenceforth made their home on that farm where David died December 28, 1928." David and wife Christian Kennish had six children, only one of whom has a death date in this family tree compiled in 1966. Their descendants settled in Greeley CO, but also in Lincoln NB, Lander WY, and Van Nuys CA.
Ellen: born (born 1 October 1850 [This is what the family tree says, but this can't be right, given David's birthdate; even Oct 1851 is pushing it]), married to James Kelly, had seven children. Three of the children died at ages 15 and 13 and 19. The others had children who settled in Galva IL, with a couple in Sacramento CA, Ventura CA, and Delavan WI.
Anna (no birth date given) – married William Clague on the Isle of Man, and had five boys and two girls, one of whom was "Thomas, who drowned in the Irish Sea when he was sixteen years of age".
First-generation:
Now to William Henry Kelly, born Aug 9, 1844, at Knockaloe, Patrick Parish, on the Isle of Man.
He came to Galva, Illinois, on Apr 23, 1868. So he was a first-generation immigrant. He married Katherine Rovilla Emry, daughter of David and Olive Jacobs Emry, on 12 January 1870. (Nothing is given about the ancestors of David and Olive Emry—whether they were first-generation immigrants, or what country they came from.) William Henry Kelly and Katherine Roville Emry had 11 children, most of whom had long lives, a couple into their 80s, though one, Katie Pearl Kelly, was born 6 Sept 1882 and died 16 Sept 1883.
Their second child was William Henry (Harry) Kelly, born 25 June 1871 – see below after this aside.
Aside:
A separate page of "interesting family records" for the descendants of William and Catherine (sic) Emery Kelly" in the family tree, is an excerpt from an 1885 book of biographical portraits of people living in Henry County:
He is, at present, the proprietor of 290 acres of land all of which is under an advanced state of cultivation. His farm presents the appearance of thrift and good management, and indicates that prosperity is the outgrowth of hard labor. … Mr. Kelly has been school director of his township, and politically, always cast his vote with the Republican party. His parents, William and Ann (Patty) Kelly, were natives of Ireland and of the Isle of Man, respectively. [Isn't this backwards??] Her parents are Henry and Olive (Jacobs) Emery, natives of Pennsylvania and New York. They came to this country in 1856…
The family tree indicates that William Henry Kelly and wife Katherine (or Catherine) had five boys and six girls – three born from 1882 to 1887 were apparently missed by the bio quoted above. The 1882 birth was a girl, who died at 12 months. Of all the others, a couple lived until 40 or 50, but most of them lived to age 70 or 80.
These "interesting family records" also includes some background about the "EMRY FAMILY (Sometimes spelled Emery)".
Catherine's parents Henry Emry and Olive Jacobs Emry were born 1802 and 1808 [doesn't say where] had 11 children (!), at least two of them (others don't say) settled in the same NW Illinois area. Henry and Olive died in 1875 and 1859.
The last of their children, Catherine Rovilla Emry, born 15 February 1849, has this historical note in the family tree:
On October 7, 1938, Catherine Emry Kelly was given a place of honor by Knox College, Galesburg [IL], as the college celebrated the 80th anniversary of the famous Lincoln-Douglas Debate. She was nine years old when the original Lincoln-Douglas Debate was held and she accompanied her father, Henry Emry, to the Debate in a surrey from their home west of Galva. Abraham Lincoln was in Toulon [IL] for a political talk during the same campaign and at a reception she sat with her father directly across the table from Mr. Lincoln. In 1860 her father was a delegate to the presidential convention at the "Wigwam" in Chicago and it was at this convention that Lincoln was nominated for the presidency.

This highlight was related to her granddaughter, Catherine Kelly, several years before Grandma Kelly's death: At the age of nine, Catherine Emry sat on Abraham Lincoln's knee at Toulon Old Settler's Picnic, and Mr. Lincoln commented to her father, Henry Emry, that Miss Katie was a bright-eyed girl, that she came from good solid stock, that she would become the mother of future generations and would guide her future family well.

Catherine Emry Kelly was born the year of the California Gold Rush and five years before Galva was founded. When she was born, her parents lived six miles west of Canton, Illinois. All of the ten other children were born in a log cabin, but she was born in a frame house. Her parents moved to Galva, later to the farm six and one-half miles west of Galva.
End of Aside.
**
Second-generation:
Then to William Henry (Harry) Kelly, born Jun 25, 1871 (died Nov 21, 1951). He would therefore be a second-generation immigrant in my family line.
He married Marie Peterson (born Nov 30, 1879), on Aug 29, 1898. Again, the Kelly family tree has nothing about her family – except for the fact that, when the it was compiled in 1966, she was still alive and living in Bishop Hill, IL.
And this is significant, as I've discovered recently searching the web. Bishop Hill was a Swedish 'colony' in northwest Illinois, not far from where my parents grew up, and I met this great-grandmother a couple times, living in Bishop Hill, before her death in the 1970s. (We called her Grandma Kelly.)
Wikipedia has some fascinating background about Bishop Hill at https://en.wikipedia.org/wiki/Bishop_Hill,_Illinois; there's also the town's own website http://www.bishophill.com/. It was settled in 1846 by religious refugees from Sweden, established as a religious, utopian community, "communistic in nature in which everything was owned by everyone and no one had more possessions than another." The founder was murdered four years later in a domestic dispute.
Read more at the links.
Third-generation
William Henry Kelly and wife Marie had one son, Harry Emery Kelly, born Mar 29, 1902 — my grandfather; third-generation. (As with Catherine/Katherine, spellings were apparently inexact in those days.)
He married Helen Rapp (born 4 Feb 1902), on 30 Apr 1930. There's nothing about her family in this Kelly family tree; all I know about her is that name Rapp is of Swedish origin, meaning 'quick' or 'prompt', and dating to the 17th century, before surnames became general in Sweden (http://www.ancestry.com/name-origin?surname=rapp).
(So if on my father's side, my grandmother was full Swedish (indicated by the name Rapp), and my grandfather was half Swedish (via Bishop Hill) and half Manx (via the Kelly family line), that supports what I was always told growing up, that on my father's side I was ¾ Swedish and ¼ Manx.)
I did not ever know my grandmother Helen. I must have met her a couple times as a young child, on family trips from Los Angeles to Illinois, including one memorable train ride and another car trip, but by the time my family moved to Illinois, in 1968, when I was 12, she had Parkinson's disease, and was confined to a wheelchair, and could barely speak. She died only a year or so later.
My grandfather, my father's father, was a genial yet at times cantankerous old man. He'd worked as a farmer's hand, not a farmer, most of his life, and later worked for the John Deere company, manufacturer of tractors and other farm implements, in Moline Il. On one of the family trips from California to Illinois, he took us on a tour of the headquarters (https://en.wikipedia.org/wiki/John_Deere_World_Headquarters), and I have a few slides of that visit taken by my father.
That my grandfather's was a relatively lower-class life was indicated by his house, which had no fireplace, as I only realized years and years later. There was a basement furnace. No fireplace, as you would think standard in every small-town or country house in rural America. (I have many photos of this house both of my father's, in the early '50s, and my own, when I was there in 1992. Will post eventually.)
Alas my most striking memories of my grandfather are from when we lived at his house for a few months during the moving transition from California to Illinois, before settling in Glen Ellyn in the Summer of 1968. The TV was on, some variety show, and he wondered out loud why such a show would put a n** (the N-word) on TV. And he wondered why the pop stars wore such long hair, so you couldn't tell whether it was a girl or a guy. I remember even then being tempted to ask, at age 12, why does it matter? Why do you care? But of course I did not. He was a strong, sturdy, silent man, a product of his environment, with a firm conviction about the reality of his experience of the world, and reacted to a TV bringing the outside world of the 1960s, a world that must have seemed strange and alien. (Not to mention I was watching Star Trek episodes, in their original broadcast, on the TV in his living room, during the time we stayed in his house. Have no recollection of what he thought of those.) He visited us in California once or twice in later years, but aside from those trips, may well have never traveled much from home in his entire life.
He died in 1992, and I flew back to Illinois in the aftermath of his funeral, as my father, uncle, and aunt gathered in the house to sort through things, and divvy up belongings. I took home a few books that had belonged to my father and his siblings, and maybe some of my mother's; books that had sat in the house attic for decades. A Bobbsey Twins chapter book. Three or four of my grandfather's schoolbooks, small hardcovers, his name crudely handwritten inside, books dated 1897 and 1902. They're on my shelves now, in my living room.
*
Harry Kelly and wife Helen had one daughter and two sons – my aunt, father, and uncle, in order, in 1931, 1933, and 1935.
Aside from relatives tracked through this Kelly family tree, there were other relatives that I knew, in those few years we lived in Illinois and visited my grandfather on weekend trips from our home in Glen Ellyn: my "Aunt Maude and Uncle Edwin", actually my father's aunt and uncle on his mother's side. That is, she was Maude Rapp until she married Edwin R. Olson. They lived in Davenport, Iowa, one of the 'tri-cities' on the Mississippi River between Illinois and Iowa, and were (I see in retrospect) the best-off branch of our family. I don't recall what Edwin did for a living—some executive position for a manufacturing firm, or city utility, I think?—but they had a very nice two-story home on a tree-lined street of stately brick homes, and regularly traveled the world. My (great-)Aunt Maude introduced me to stamp collecting, her own hobby, which I pursued for a couple years while we still lived in Illinois…before setting it aside as other interests prevailed.
Searching the internet, I think this is probably right: https://www.fold3.com/page/40625371_edwin_r_olson/. Edwin must have died in 1991, and when I went to Illinois in 1992, my Aunt Maude had been moved to a nursing home – a very nicely furnished apartment, actually. I reminded her about her inspiration about stamp collecting, and she gave me a booklet of collecting sheets of miscellaneous stamps she'd never cataloged. Probably the last of her collection. I still have them.
When Aunt Maude died, in 2005, she left an estate some of which, since my parents, including her nephew my father, had passed, trickled down to me. I got $4800. Since my father was one of 19 heirs (I have the paperwork), and my father had three other kids… her estate must have been something like $400,000. An impressive amount, considering when it must have accumulated. An outlier, along either of my family lines.
Fourth-Generation:
The aunt was Betty Anderson, a heavyset woman compared to the rest of her family, who married the relatively thin Stanley Anderson (their situation recalled the Jack Sprat Mother Goose tale) and had five children, who all have stayed their entire lives in or around Cambridge, Illinois, as far as I know. Stanley was the butcher in the town market, Wayne's, his entire life. They had one boy, Ronnie, about 3 years older than me, and four girls, Christine (my age), Cheryl, Cathy, and Kelly.
By the time my family stayed in Cambridge in the early '70s, Betty and Stan had a house built next door to my grandfather's house, a split level house from a standard plan, having rejected a proposed custom open-floor (as we would call it now) design by my father.
Years later, when I returned to Cambridge in 1992, Christine and her husband had built their own house one more lot down, next door to her mother's house.
You can see all these via Google Street View, in the northwest corner of Cambridge IL, where N West Street meets what's now called Bowling Road.
*
The uncle was Bruce Kelly, who settled in suburban Chicago, Des Plaines, and spent his career as a high school shop teacher. He married Barbara, and they had three sons, who last I heard became missionaries. I have not had any contact with them in decades.
*
My father, Robert Harry Kelly, born 5 Sep 1933, married Helen Elizabeth Pierce, born 23 Jan 1934, on 25 Jul 1953. My father had grown up in Cambridge; Helen had been born in nearby Kewanee, but her family moved to Cambridge, where her father was the county sheriff.
They had four children. I was the eldest, born 30 August 1955, in England. Next came Susan Elizabeth, born 26 July 1958 in Apple Valley, CA. Then came Lisa Ann, born 20 January 1962 in Apple Valley CA just before the family moved to Santa Monica CA. And then Kevin Bruce, born 16 January 1964, in Northridge CA.
*
I'll end this section about with some observations about my father's Isle of Man/Irish ancestors, to note that they came to the US at a time when many Irish emigrated to England and the US, in the wake of the potato famine of the 1840s (https://en.wikipedia.org/wiki/Great_Famine_(Ireland)), and were subject to anti-immigrant bigotry, as recalled in the famous phrase "No Irish Need Apply": https://en.wikipedia.org/wiki/Anti-Irish_sentiment#No_Irish_need_apply. At the same time, I have no evidence in these family trees that my ancestors were affected by those attitudes, or even that they were motivated to come to the US by the fallout of that famine (after all, they didn't come from Ireland proper, so perhaps the famine didn't affect them at all). Still, it's worth noting this theme, since at the time the 'Irish' were regarded in the US as non-white, dangerous immigrants, in an attitude that has played itself out over and over again in the centuries and decades since. Human nature. People demonize outsiders. The latter link above has this striking quote from the esteemed Benjamin Disraeli (born 1804, who later became Prime Minister of the UK in 1868) in 1836.
[The Irish] hate our order, our civilization, our enterprising industry, our pure religion. This wild, reckless, indolent, uncertain and superstitious race have no sympathy with the English character. Their ideal of human felicity is an alternation of clannish broils and coarse idolatry. Their history describes an unbroken circle of bigotry and blood.
****
Details of Mother's side
I also have a family tree on my mother's side, compiled by her brother, my Uncle Bob, in 2003, shortly before his death. It more-or-less supports what I was always told, growing up, about my ancestry on that side of the family: a mix of French, German, English, and Swiss. Though these documents follow two branches upward, to ancestors of both my mother's grandfathers, the entirety of these family trees is smaller than the Kelly family tree…I think because ancestors on this side had smaller families.
First generation, DeVries/Curtis line:
Franciscus Peter DeVries was born in Hanover, Germany, 25 Dec 1825, and immigrated to the US in 1854 through the port of New Orleans. He was a physician, practicing in Chicago. He died there 22 Jan 1899.
He married Ozelia Miller on 20 Aug 1856 in Pekin, IL; the only background mentioned about her is that she was born 1830 in Switzerland.
Second generation:
Francisus and Ozelia had six girls and two boys, the oldest of which was Margaret Tracia DeVries, born 13 Oct 1858 in Pekin IL, died 17 May 1928, in Galva IL.
Margaret married Jonathan H. Curtis on 27 Dec 1882 in Chicago. He was born 2 Feb 1855 in Essex County, NJ, and died 19 Mar 1911. There's nothing about when his family immigrated, or where from, but Curtis is indicated as a "common English surname" on various internet sites.
(Of the other seven of Margaret's siblings, only four of them are listed in this family tree has having married and had children, and only two or three children in each case. Two other siblings are indicated only as having married. By implication, those two had no children, and the second of the eight children, Henry, is only mentioned as having been born in 1860 and died in Chicago.)
Third generation:
Margaret and Jonathan had eight children, six girls and two boys, the youngest of which was my grandmother, Lelia Marjorie Curtis, born 22 Nov 1900, died 5 Jan 1984. (Interesting how my family line passes through the eldest child of eight in one generation, then the youngest of eight in the next!)
Second generation? — Pierce line
At this point the Pierce family tree shows another branch of the Pierce ancestry, beginning with Darius Austin Pierce, born 14 June 1830 in Delaware NY (and thus not 'first-generation' by the terminology I'm following here, though that's what the family tree calls him), and died 23 Oct 1920 in "Of, Truro, Knox, Ill." (sic)
The family tree has some details about the family status in the 1860, 1870, and 1880 censuses, but nothing about his ancestors or when they first came to the US.
Darius married Sylvia Maria Cadwell on 25 Dec 1860 in that same place, "Of, Truro" etc.; she was born 15 Oct 1842 in Truro, died 13 Nov 1913 in Altona IL.
They had eight children. Two of them are listed as born, with no death dates. Another died at age 2; another died at age 6. The others died at 80, 42, 38; one other married at 22 but has no death date.
The sixth child was William August Pierce, born 1878. It says he died on Phoenix, AZ, but not when.
He married Mary E. Jackson on 10 Apr 1898; she was born in 1879 in Indiana, and also died in Phoenix, no date.
William and Mary had four children. There are details about only one, Byron Leslie Pierce, born 11 Aug 1900. He married my grandmother Lelia, as the two branches of this family tree merge, and then extends to Helen and brother Robert, all their children (Mark, Susan, Lisa, Kevin, Paula, Steven), and all their children: to Jason, Kevin, Joshua, Jordan, Aaron, Benjamin, Ryan, and Joel.
*
And so Lelia Marjorie Curtis married Byron Leslie Pierce on 20 Sep 1921. Byron died 13 Jun 1946, at the age of 45, in the most dramatic incident on either side of my family tree. Quoting the Pierce tree:
Byron was Sheriff of Henry County at the time of his death. He was shot and killed by a recent discharged from a mental hospital while investigating a problem at the killer's farm.
Details can still be found on a couple websites, including this Chicago Tribune front page, http://archives.chicagotribune.com/1946/06/14/page/1/article/kills-brother-sheriff-seized-in-gun-battle, from June 14, 1946, and this History of the Henry County Sheriff's Office, http://www.henrycty.com/Departments/Sheriffs-Office/The-History.
Moreover, my grandmother, his widow, was "appointed County Sheriff of Henry County in 1946 to fulfill the term of her late husband…", though it doesn't say how long that term was. This is from my grandmother's memorial, at http://www.findagrave.com/cgi-bin/fg.cgi?page=gr&GRid=7015347
In the late 1950s my grandmother relocated to southern California and settled in Apple Valley, where she lived until her death in 1984.
My mother had one brother, Robert Curtis Pierce, born 20 Jul 1935, who settled in southern California. I was close with my Uncle Bob for a couple decades in my adulthood, though I'd lost touch with him for some years by the time of his death in November 2003.
I have three high school yearbooks, 1950 to 1952, that include my father's senior year, 1951, and mother's, 1952. In 1952 my mother was homecoming queen. (Admittedly the entire class wasn't very big, only 30 students.) The 1951 yearbook includes my mother, my father, and two uncles, Bob (on my mother's side) and Bruce (father's), who were all in the same school at the same time. My Aunt Betty must have already graduated before 1950. I'll be posting some scans of photos from these yearbooks.
And in a subsequent posts I'll explore, as I've already done partially in part in earlier posts, how my family ended up in California, where I grew up.