My parents were Robert Harry Kelly and Helen Elizabeth Pierce, born 1933 and 1934 respectively. They both grew up in small towns in northwestern Illinois – Cambridge and Kewanee, respectively.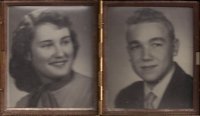 (This entire post, and others to follow, are advised IIRC.)
(My mother, in later years, I realized was quite beautiful, and reminded me of the actress Veronica Hamel, who starred in the '80s TV series Hill Street Blues. This link has a pic.)
My particular branch of the Kelly family derives from the Isle of Man, an island in between Great Britain and Ireland, and the earliest ancestors in the family tree that some of my relatives compiled several decades ago came over the US in the 1860s. The family coat of arms is a triskelion. My father's side, the Kelly side, was roughly ¾ Swedish, and ¼ Manx. My mother's side, I was given to understand, was a mix of French, German, Swiss, and English. So the result is that I am a mix of various European roots.
The Kelly family in America goes back to a Swedish 'colony' called Bishop Hill, again in northwest Illinois. I have early memories of visiting my great-grandmother there, in the early '70s; she lived into her 90s.
My father was from a relatively poor background, as far as I have gathered; his father, a farm hand, lived in a house at the northwest corner of Cambridge, Illinois, that was so basic it didn't even have a fireplace. My mother was from a relatively well-off background. Her father was the sheriff of Henry County, Illinois, who was killed in the line of duty, in a shoot-out with some criminal, when my mother was about 10 or 12. The family story is that after this tragic event, my grandmother on that side was, according the law at the time, made temporary sheriff herself, until a special election could be held to elect another.
Two of my grandparents were long-lived, with two others being exceptions, the first being the aforesaid maternal grandfather, of an accident, and my paternal grandmother, who died of Parkinson's Disease in the early 1970s, in her early 70s. All my grandparents were born around 1900.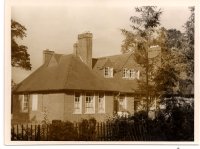 Alas, I have no detailed records of my parents' lives. I believe they married in about 1952. My father had gone to college, I think at the University of Illinois in Urbana-Champaign (or whatever it was called then), wanting to be an architect. But before he finished, he went into the US Air Force, became a meteorologist (or at least a weatherman), and was assigned to an American base in southeast England. He was married by then, and my parents lived in Felixstowe, near Ipswich, and in 1955 I was born in a maternal hospital, Phyllis Memorial Home, a bit north of there, in a small town called Melton. Because I was born off-base, I acquired British citizenship, as well as American citizenship because of my parents. So I had dual-citizenship until just before I was 18, when my parents had to file some papers to renounce my British citizenship in order to avoid my being drafted into the British military.
My parents returned to the US when I was only a year and half old (I've been told), via a long flight that landed half-way for refueling in Newfoundland. So I have no direct memories of England. I do have boxes of photo 'slides' [an antique term, now, which is why I put it in quotes] that I inherited from my father on his passing about 10 years ago, including a number of their apartment in Felixstowe, the beach strand with strings of multicolored lights, and even of the maternal hospital where I was born. I do intend to mine these and scan the best ones for uploading, for my family members at least.
On my first trip to Europe, back in 1990, I took a sidetrip to England, rented a car, and drove out to Felixstowe. It looked exactly the same as in my father's slides. Though the pier was then a raucous late-night party scene, which, in our hotel along the beach, kept us awake long into the night.
When my father's Air Force service was over, he came back to the US and settled in the high desert of southern California, because of a friend he met in the service, Rollin Bigbee, who lived in Burbank, a suburb of Los Angeles. And so my earliest memories are of the desolate high desert, and being far away from everyone else.
More to follow.