Yesterday we took a three-hour drive, with a lunch stop part-way through, but since I didn't take any photos along the way, it didn't happen, by some internet standards.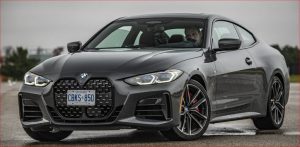 Still I'll describe it a bit. We had Y's loaner car, his own car (a 4-year-old BMW 530 hybrid) still at the dealer for repairs; the loaner is a BMW M440i coupe, with that big tall grille that BMW aficionados have been nervous about for months. On seeing the car in our driveway, I don't mind the design that much, in part because California license plate laws put the plate right in the middle of that big grille. Which distracts from the otherwise obnoxious vertical front design.
We drove north along Skyline Blvd in Oakland, and then onto Grizzly Peak along the ridge above Berkley, past the Cal campus, and all the way to Tilden Park. Then turning back to Wildcat Canyon Rd., down into the canyon, then along San Pablo Dam Rd. past the reservoir. Then into north Concord, to the 680, and down to Dublin to visit the Barnes & Noble there, and have lunch.
As always when I get a loaner car, I am impressed, or sometime distracted, by the new features, compared to the previous models of 5 or 10 years before. (I still love my now 11-year-old M3.) In this current model, I like the holographic display of speed and current speed limit in the bottom of the front window. I like the lane-protection feature, to alert you when you drift from side to side in a freeway lane. There are other features, like its "mild hybrid system," which I've not had time or inclination to explore; Y is taking this loaner back in a couple days. I note that dealer policies for many modern cars apparently involve one or two hour sessions for the buyer about how to operate the car. No longer can we assume, as with car rentals at the airport, that all cars work more or less the same. At least not high-end cars like BMWs.
This is all about keeping up with new technology, how the future continuously overtakes the past. We science fiction folks like to anticipate and envision new technology, but our circumstances don't always allow us to keep up on the reality of that technology, which at first is very expensive. In this very small way, I am managing to keep up, or at least stay attuned.