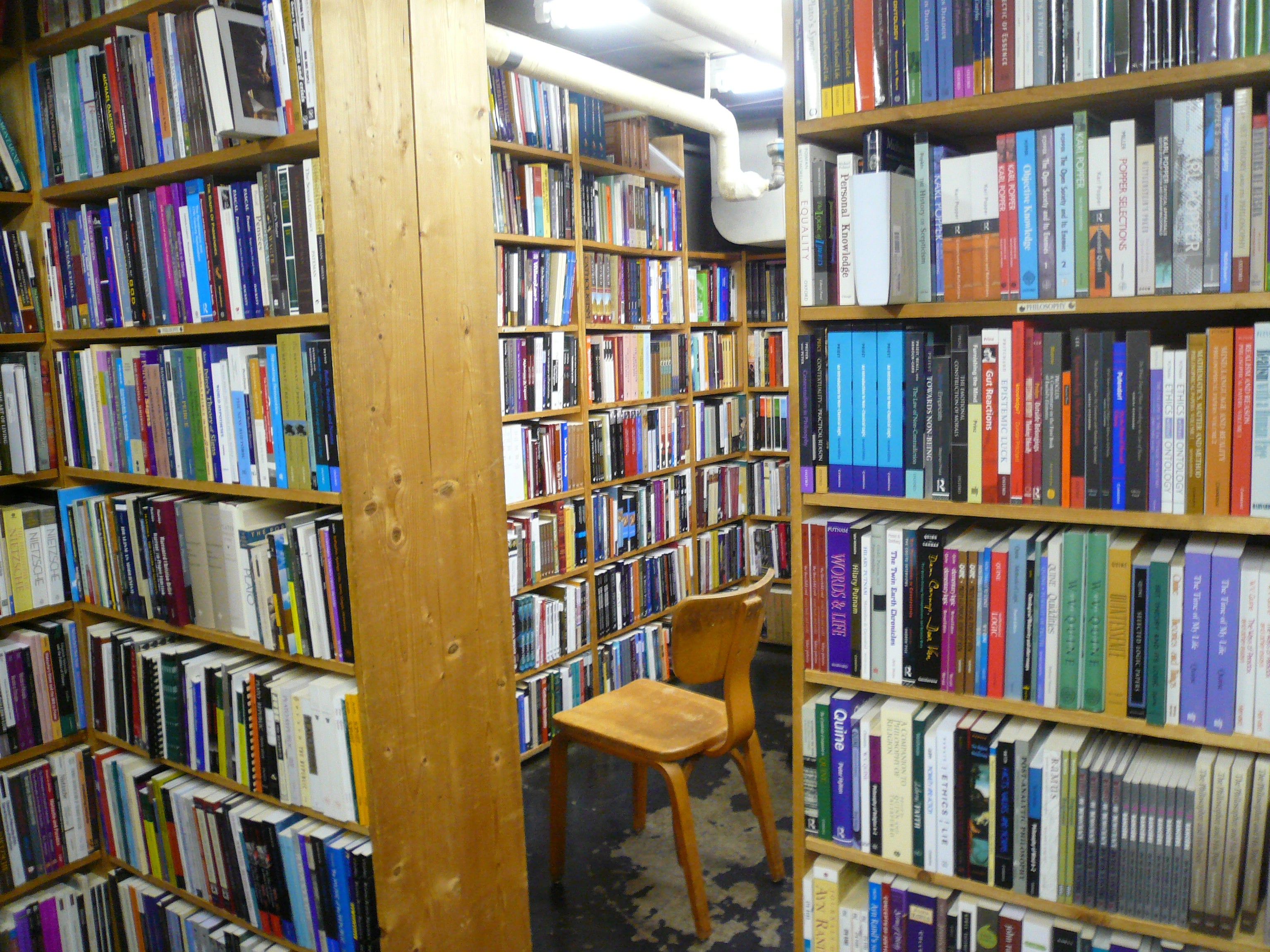 Slate, Jeff Deutsch, 9 April 2022: What Kind of Bookstore Browser Are You?, subtitled "We booksellers have seen it all."
This is an excerpt from the writer's In Praise of Good Bookstores, published this month.
There are many forms of browsing, and many types of browsers. A non-exhaustive list of those we see in our wilds would include the flaneur, who meanders through the stacks, observing, loitering, shuffling; the sandpiper, who sees the world in a grain of sand; the town crier, who heralds the latest news from the pages of the books on the front table; the ruminator, chewing their cud; the pilgrim, seeking wisdom, they know not what or where, but knowing that they must find it; the devotee, who prays daily, regardless of the season; the penitent, who has not lived as they ought and is now seeking redemption, or at least forgiveness; the palimpsest, who reads and rereads and knows that every reading leaves its inscrutable mark; the chef, who trusts their senses to help them identify the most delectable ingredients; the initiate, who doesn't know the mores of the place but is hopeful they might soon belong; the stargazer, who takes in the sky with a well-honed attention; the general, who sees the stacks as a thing to be conquered; and the idler, who just wants to while away the hours among books.

Novelist Christopher Morley, one of bookselling's greatest champions, laments that most habitués of the bookstore have yet to understand its uses. He knows that bookish spaces are made for the wandering browser, reflecting on sundry matters, as they travel the stacks. He thinks of the bookstore as a great instrument and bemoans the fact that we visit bookstores "chiefly to ask for some definite title," playing the instrument like an amateur. He goes on:

Aren't we ever going to leave anything to destiny, or to good luck, or to the happy suggestion of some wise bookseller? Too many of our dealings with bookstores remind me, in their innocent ineffectiveness, of children learning to play the piano. I hear their happy ploiterings among the keys, their little tunes and exercises ring in my head in times of softened mood reminding me of all the lovely unfinished melodies of life. But it isn't what a connoisseur would call music.

The connoisseurs of the bookshop develop their unique style. They learn divagation. They know to leave a bit of room for inspiration and aspiration.
I'm surprised to learn there are so many different kind of browsers, or even how the booksellers who compiled this list can tell one from another — what are the differences in their actual habits as they walk through the store?
So I can't immediately tell which kind of browser I am. Am I a "connoisseur"?? Maybe… My habits have changed greatly over the years.
Currently — meaning the past couple years — I rarely visit bookstores of any kind. This has been because of the pandemic, and because following my transplant surgery and immune suppression drugs, I've had to be careful about going out in public for any reason. The rare occasions when I do visit a bookstore is when I visit Barnes & Noble every two months to buy the new issues of two science fiction magazines: Asimov's and Analog. I buy them in person, as I've done for over 50 years, partly out of tradition, and partly because I don't want to subscribe to them, since subscription issues come in the mail with mailing labels glued to the covers and creases and folds in those covers, since they are shipped without envelopes.
Also currently, now meaning the past couple decades, I buy most of my books from Amazon. Yes, yes, I know there's a backlash to Amazon, because of its success — but that's how capitalism works, yes? OK I understand there are other reasons to avoid Amazon, but especially in my situation, it's easier (and cheaper) to get books from them than from anywhere else.
But I do like visiting bookshops, especially independent ones. The book quoted above points out how such shops are "curated," to use a possibly cliche term, how the titles they sell are selected by a discerning staff. Whereas, Amazon sells *everything*, and B&N and earlier chains like Borders *try* to sell everything, and are conscious of which books are bestsellers, and place such titles at the front of their stores.
The precise reason I (still even now, occasionally) visit independent bookstores, is to put myself in a position to discovers books I didn't know about. But realize, serendipitously, that I do need to know about. The best indie stores in the Bay Area are, ironically, actually a smallish chain called Books, Inc., with about 10 locations. Each shop is not very large, but the staff arranges tables at the front of new fiction and nonfiction books, *not* the ones they expect to be bestsellers, but books they anticipate will be of interest to readers who do not read bestsellers (like me). That said, different Books Inc. sites, run by different people, are slightly different, of course. I've discovered more interesting items at the Books, Inc. in Berkeley — just up the street from Chez Panisse — than at the one in Alameda, for example. But when I do see an interesting title there I buy it from them; I don't go home and order it from Amazon.
There are other indie shops in the area: A Great Good Place for Books, in nearby Montclair Village; Walden Pond Books, on Grand Ave; a couple on College Avenue, including a Pegasus (with another in Berkeley); and several used bookshops on Piedmont Avenue (actually in Oakland, south of the city of Piedmont), including Owl & Company, where I bought the used copy of the Eric Frank Russell novel I reviewed here. There's also a huge used bookstore in Berkeley called Moe's, just off-campus where it's difficult to park, that I've only visited once, in seven years.
Browsing Habits. For decades, literally, I would enter any bookstore and go to the science fiction section first, to see what was new, because I've always been a regular science fiction in the sense of keeping up with new books and authors. I would go every couple weeks and buy four or five books at a time. After that, I would, and still do, browse certain other specific sections, especially science, but also more in recent years, social sciences, technology, philosophy, religion, and general fiction. And at some point, browse the tables up front with the newest titles.
I very rarely chat with the bookstore owners or any of the staff. In the big box stores, like B&N, the staff doesn't know anything, and even in the local indie shops, when I do ask about something, they have to look it up on their computers. The two exceptions over the decades have been the two science fiction specialty stores — both now since long closed — A Change of Hobbit, run by Sherry Gottlieb, in Westwood and Santa Monica, and Dangerous Visions, run by Lydia Marano and Art Cover, in Sherman Oaks. *They* knew their stocks backwards and forwards. And they had amazing backstocks, of new and used books from decades before, in bookcases filling 2/3 of their shops.
The irony now is that, via the web, and sites like Abebooks, you can find virtually anything that's ever been in print, over the past century or more — but only if you know what you're looking for. (And I have purchased two or three dozen titles, some pricey, from Abebooks, over the years.) But there's nowhere now to browse the backstock as there was at CoH and DV. The best place locally is Owl & Company, and maybe Black Swan up the street, but their selection is tiny by comparison.
\\
I could go into far much detail, and will do so. I posted 15 Ways of Buying a Book, Part 1 nearly six years ago, and will eventually write part 2.