Since I finished a couple posts of photos and commentary (e.g. http://www.markrkelly.com/Blog/photos/first-apple-valley-house/) about the house in Apple Valley, California, where my family lived when I was three or four years old, I've been gathering photos of the second Apple Valley house we lived in when I was in kindergarten and 1st grade, a house which remained in the family, so to speak, until the mid-1980s. I've been reading my old personal journals about the times spent at that house. I mentioned a couple trips I took, in 2009 and 2011, to revisit the area. But on the last trip in 2011, I supposed that there would never be another reason, perhaps not even an opportunity, to visit the area ever again.
But last week I had a sudden reason for a quick drive to LA for a Thursday afternoon appointment, a one-night stay-over, and a drive home on Friday. So on the return trip, I took a long detour in part to revisit the area one more time — and to perhaps confirm my deductions about the likely location of the first Apple Valley house. I hit a couple other spots as well:
First, Vasquez Rocks. For all the decades that I lived in southern California, for all that Vasquez Rocks were famous as being the backdrop to two or three Star Trek episodes and many other films, TV episodes, and TV commercials, for all that, I never actually visited the park to see the rocks up close. They're visible from the 14 freeway, of course, so I knew exactly where they were. But every time I traveled through the area from LA out to the desert, it was either on the 14 freeway, or through Soledad Canyon (all my bike rides) paralleling the freeway to the south, or, rarely, along Sierra Highway that parallels the freeway along the north. (Before the 14 freeway was built 1963-1965, Sierra Highway was the main route through those hills.)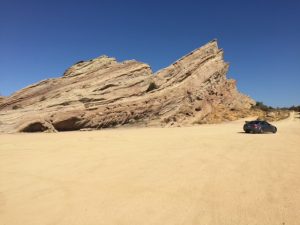 Clear sunny morning, 9am. Only a handful of vehicles there. Down a dirt road, leading past a small visitor center that looked closed, then to one large parking area, then beyond, through the rocks, to a larger parking area below.
I got out and breathed the air and took a couple photos. The area is actually larger than I might have thought, with three or four distinct hills of angled sandstone slabs, and large enough that I could not tell exactly which one was used in the various scenes of those Trek episodes. I did not climb on any of the rocks. (There was a group of climbers a couple ridges away.) I was there only a few minutes, then got back in my car, drove slowly out the dirt road, and back along the highway to the freeway.
Second, Pearblossom Highway to Victorville. On my two relatively recent trips to Apple Valley, in 2009 and 2011, I don't think I took the direct route, the one we always took driving on those family weekends in the '60s, in either direction on either trip. Partly yes. This time I took it all the way across, noting that the westernmost sections, between the 'Four Corners' junction and first Little Rock and then Pearblossom, were divided highways, two lanes in each direction, shrinking to ordinary streets only through each town. Past Pearblossom the divided highway ran out, the road reduced to its original two-lane highway as it headed eastward across the desert. Most of the severe 'dips' in the original highway – where the road crossed dry stream beds running northward off the San Gabriel foothills to the south – have long since been filled in and leveled out. Years ago there was speculation about building a true freeway across this stretch of desert, connecting State Highway 14 near Palmdale to Interstate 15 near Cajon Pass, but that has never happened.
Third, the Area of the 1st Apple Valley house. I wasted a bit of time exploring the lake southeast of Victorville that I could see on Google Maps but didn't recall from living there in the '60s or any later visits in the '70s and '80s. It's called Spring Valley Lake and is the centerpiece of a large subdivision of houses built in the '90s and 2000s (judging from browsing sample properties on Zillow.com), with marinas housing small boats. The houses seem upscale though are of generic style, and could be anywhere in the US; given the area, they're inexpensive for their sizes, with prices running from under $300K to $800K right on the lake. (Curiously, the subdivision seems to be neither within the city limits of Victorville, nor Apple Valley, according to Google Maps.)
Just north of this lake, but still below the Ridge separating Victorville from Apple Valley, is an undeveloped area called Mojave Narrows Regional Park, with another lake of sorts. Years ago as a child my father took me a fish hatchery there. There doesn't seem to be such a thing anymore. Despite the maps, there's no road through the park from Yates Rd up to Highway 18, according to the ranger. I did not linger.
Instead, I took the opportunity to follow up on my speculation about the location of the first Apple Valley house. I drove out to that northeast corner of the valley, and then went slowly up and down those roads – Century Plant, Candlewood, Joshua – looking for any structure that could be imagined to match, even after remodels, the cinderblock house from my family photos. And saw nothing. However, I did get the impression that the two water tanks (now painted brown) on the nearby hill were much too close from those streets compared to their apparent distance in that backyard photo with my father and the dog…
This morning, using Google Maps street view again, and considering that the house faced away from the hills, I now conclude the house most likely faced Mesquite Road, a couple roads west of those others, about half-way up that block, say around 17105. From there, using Google Street View, the view to the east shows the two ridges overlapping in just the same way they do in the backyard photo.
What would the house to the west be, the one I thought might be on Century Plant Rd? Well, possibly the place at 17096 Ocotilla Rd, to the west, a house built in 1951. So it would have been there. So would 17243 Sycamore Lane, built in 1951, a bit farther north and on the line of site to Bell Mountain, in that same photograph.
But there's no way to be sure, and it doesn't really matter. You can't go home again. But I'll need to update that photos page, with latest conclusions of the likely location of that house.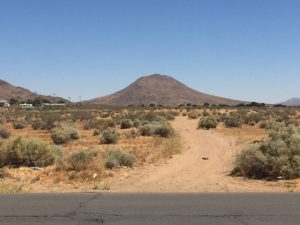 Fourth, around Bell Mountain. I'll post just one photo of Bell Mountain, one I took that morning from the end of Winnebago Avenue, just north of the first house — an iconic symmetric bell curve profile. The irony is that from other angles it is not so pretty, and there is apt metaphor in how Bell Mountain looked from the house where I grew up and visited often in the mid 1960s, and how I later discovered the mountain to appear from other directions. So on this trip, from the previous stop, I drove north to Quarry Road, then west to Stoddard Wells road, which goes around the back of Bell Mountain, and took a couple photos from there. I'll post those when I'm ready for a full discussion of those later years in Apple Valley.
Finally the long drive home. I took I15 north to Barstow, then Highway 58 west across the desert, through Kramer Junction, past Boron with its borax-mining operation to the south, past turn-offs to Edwards Air Force Base. Then through Mojave, deciding to delay a lunch stop until I needed gas, and continuing on Highway 58 up into the hills, past the windmill farm, through Tehachapi, and down into the Central Valley to Bakersfield. Then north, to Oakland, with a fair amount of pre-July 4th weekend traffic.